Disclaimer:  This site is not affiliated with the National Hurricane Center, Hurricane Hunters, Storm Prediction Center, or National Weather Service.  ALL forecasts herein are the result of my analysis, (to which you will see me at times, insert excerpts from various agencies due to the nature of the importance of the information) and I am solely responsible for the content.  As ALWAYS, follow the National Hurricane Center, National Weather Service, and your local Emergency Management officials for emergency decisions.  In addition, this is strictly a FORECAST OFFICE.  I CANNOT make decisions regarding travel plans, etc.  My purpose, is to provide you the information, based solely on information I analyze, and the accuracy of the information at hand of the time of analysis, so you may make informed decisions.
(T. F. "Storm" Walsh)
For those who have donated to my site, your help has been greatly appreciated.  If you are not aware, donations to my site help pay for subscriptions to sites I use as well as software updates, which provide all the models and information used in my forecasts.  To donate, please click the DONATE button to the right side of the page, or on the graphic of the dog.  Any help you provide is immensely appreciated! 
DONATIONS ACCEPTED AND APPRECIATED

Please be aware, even though I do not post every night, rest assured I am continuously monitoring various areas for any significant weather.  I will be taking Sundays off (family time), unless we have active systems that may be posing a threat (i.e. Tropical, Winter Weather, Coastal Storms, etc.).
Good day everyone!
This will be a short severe weather update, since severe conditions are occurring as of this synopsis, and are expected to wain over the next few hours, with severe weather only continuing possibly into early afternoon.
The Storm Prediction Center (SPC) has issued a SLIGHT RISK OF SEVERE THUNDERSTORMS FROM EAST-CENTRAL MISSISSIPPI TO EXTREME SOUTHWESTERN VIRGINIA…
…SPC SUMMARY…
Sporadic severe thunderstorms remain possible in a band from the west slopes of the south-central Appalachians to the northern Gulf States. Damaging wind gusts and a few tornadoes will be possible, mainly early in the day. Isolated strong wind gusts cannot be ruled out over parts of the Mid Atlantic during the late afternoon and evening.
SPC DAY 1 OUTLOOK (CLICK MAP FOR FULL OUTLOOK TEXT)


SPC DAY 1 TORNADO PROBABILITY


SPC DAY 1 DAMAGING WIND PROBABILITY


SPC DAY 1 HAIL PROBABILITY


Analysis this morning revealed severe weather was in progress over the TN Valley, southward.  Mesoscale discussions and Tornado Watches are already in place.  Based on my analysis of severe weather and tornado parameters and indices from the NAM – WRF model, the strongest indices indicating where severe weather and the threat of tornadoes have the highest probability of occurring, lie within the outlined areas in the F5 DATA Severe Weather software maps.  The time stamps in the maps indicated the ongoing event should run through 9:00 a.m. CST until approximately 12:00 noon to 1:00 p.m. CST.  Given the forecast of weak lapse rates and weakened instability, I am not expecting the threat of strong tornadoes at this time, based on the information analyzed, at least for the most part.   There is always that freak chance, however based on analysis, the threat for strong tornadoes has diminished.
NAM – WRF BEST SEVERE / TORNADO PROBABILITY 9:00 A.M. CST


NAM – WRF BEST SEVERE / TORNADO PROBABILITY 12:00 NOON CST


SPC MEDIAN STP (SIGNIFICANT TORNADO PARAMETER)


SPC MESOSCALE DISCUSSIONS (CLICK IMAGE FOR UPDATES)


SPC CONVECTIVE WATCHES (CLICK IMAGE FOR UPDATES)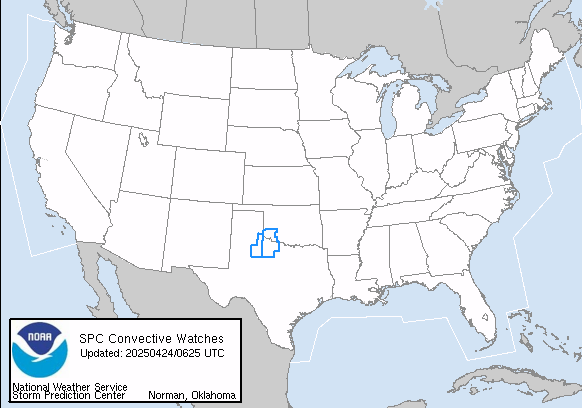 The following NWS Watch / Warning map will provide local NWS information for your area.  Click the image, then once it refreshes, click on your area of interest to view any special weather statements, hazards or advisories for your area.
IF A TORNADO WARNING IS ISSUED FOR YOUR AREA, IMMEDIATELY TAKE STURDY AND SAFE SHELTER
NWS WATCH / WARNING DISPLAY LINKED (CLICK MAP, THEN YOUR AREA)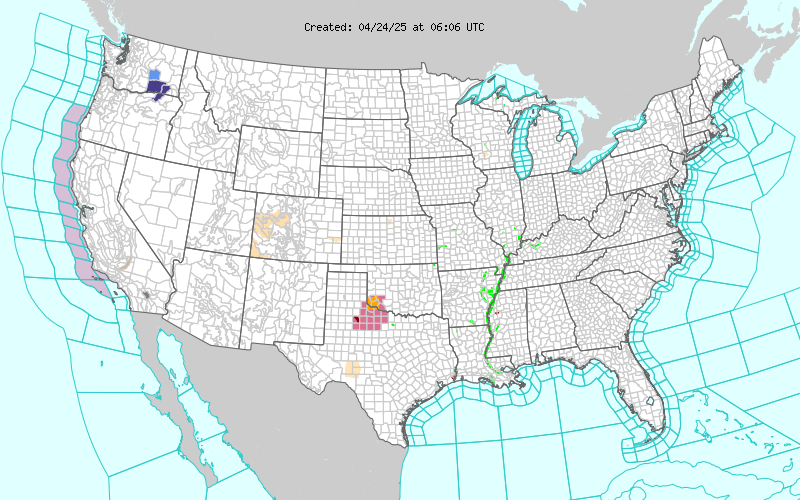 WSI DOPPLER RADAR LOOP (LINKED)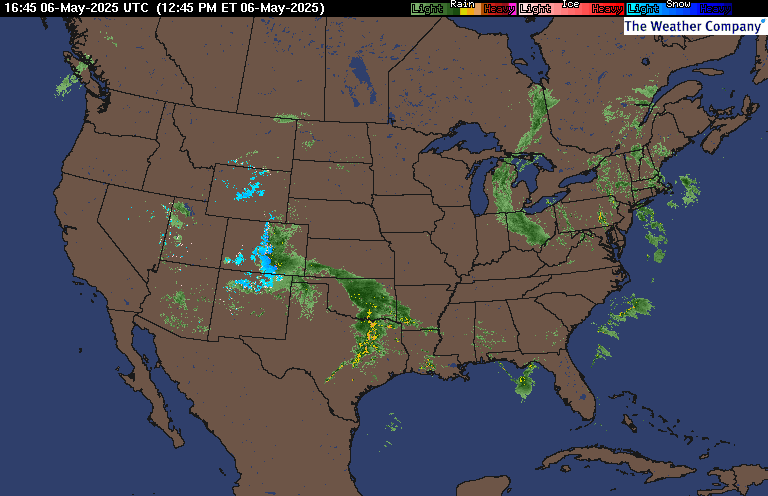 RAP RADAR (CLICK IMAGE THEN RADAR SITE)
I will be monitoring the global modeling and teleconnections models as the week progresses.  Current indications are that all of the teleconnections take a plunge into negative territory OOA DEC. 20 – 21st, along with the MJO going into phase 7, which during this time of year, indicate much colder temperatures over CONUS.  Based on current ECMWF and GFS forecast minimum temperatures, it appears we could see our first shot of Arctic air come south, with mid to upper 30's reaching central Florida, and below freezing temperatures in the Florida Panhandle.  Given this is 10 to 11 days out in the current forecast period, I am just going to continue to monitor the situation over the next few days, as temperatures could modify either direction.  Once within the 3- 5 day period, the  forecast should be more solid, and I will issue a synopsis, which will be next weekend.
You may direct any questions by contacting me personally, ANYTIME, at: [email protected]
Have a blessed day!
T. F. "STORM" WALSH III
GMCS, USCG (ret)
METEOROLOGIST / HURRICANE SPECIALIST /SEVERE WEATHER SPECIALIST