Disclaimer:  This site is not affiliated with the National Hurricane Center, Hurricane Hunters, Storm Prediction Center, or National Weather Service.  ALL forecasts herein are the result of my analysis, (to which you will see me at times, insert excerpts from various agencies due to the nature of the importance of the information) and I am solely responsible for the content.  As ALWAYS, follow the National Hurricane Center, National Weather Service, and your local Emergency Management officials for emergency decisions.  In addition, this is strictly a FORECAST OFFICE.  I CANNOT make decisions regarding travel plans, etc.  My purpose, is to provide you the information, based solely on information I analyze, and the accuracy of the information at hand of the time of analysis, so you may make informed decisions.
(T. F. "Storm" Walsh)
For those who have donated to my site, your help has been greatly appreciated.  If you are not aware, donations to my site help pay for subscriptions to sites I use as well as software updates, which provide all the models and information used in my forecasts.  To donate, please click the DONATE button to the right side of the page, or on the graphic of the dog.  Any help you provide is immensely appreciated! 
DONATIONS ACCEPTED AND APPRECIATED

Please be aware, even though I do not post every night, rest assured I am continuously monitoring various areas for any significant weather.  I will be taking Sundays off (family time), unless we have active systems that may be posing a threat (i.e. Tropical, Winter Weather, Coastal Storms, etc.).
Good day everyone!


Regarding the event on Dec. 29., SPC did upgrade a small area to an ENHANCED risk upon the issuance of the updated convective outlook.  This is why I always caution, that conditions and outlines can change AFTER the issuance of my synopses.  Forecast conditions did change, with an increase in surface dewpoints, mid level winds increasing by approximately 20 kts, and 850 mb winds increasing to 40 kts.  This was enough to enhance lift through warm advection, increasing the risk for severe weather.  I did note during the day, tornado watches had been posted further north than my outlines in the F5 DATA, NAM – WRF maps, however storm reports for that day indicated a total of 3 tornadoes, which occurred within my outlined areas.
I will reiterate, my forecasts are based on the available information I have to analyze at that time, and are only as accurate as the information provided and what it is telling me at that particular time.
The Storm Prediction Center (SPC), has issued a SLIGHT risk of Severe Thunderstorms overnight FROM NORTHEAST TX/SOUTHEAST OK TO TN/KY…
…SPC SUMMARY…
A few damaging gusts, marginally severe hail, and a tornado or two will be possible, mainly overnight from northeast Texas/southeast Oklahoma into parts of Tennessee and Kentucky.
SPC DAY 1 CONVECTIVE OUTLOOK (LINKED FOR FULL OUTLOOK TEXT)


TORNADO PROBABILITY


HAIL PROBABILITY


DAMAGING THUNDERSTORM WIND PROBABILITY


Based on analysis of this morning's updated SPC outlook, a broad warm sector will remain in place over OK, AR, TN, and KY.  A lee cyclone is forecast to develop over the region, within a sharp baroclinic zone.  Baroclinic zone defined: 

BAROCLINIC ZONE – A region where there is a large horizontal change in temperature, humidity, and or pressure, such as across a frontal zone. Baroclinic zones often form along regions of large temperature and humidity change and may precede the formation of a frontal system if those differences become sharper.
Based on increasing surface moisture (analyzed dewpoints 65 – 70F, and relative humidity values of of 80%+), forcing for ascent should become stronger during the late to overnight hours.  Analysis of various severe weather and tornado indices from F5 DATA, using the NAM – WRF 12Z model output, suggests  the best probability for the strongest severe weather and tornadoes to occur , should lie within the following outlined areas.  Some of the indices and parameters analyzed were  S.W.E.A.T, L.I., SRH, VGP, EHI, SCP, SHEAR, and STP, along with Relative Humidity and Dewpoints.  The NAM -WRF suggests even though SPC indicates most activity in the overnight period, onset could occur as early as 6:00 p.m. CST.  The following link will explain most of the severe indices:
ENVIRONMENTAL PARAMETERS AND INDICES
https://www.weather.gov/lmk/indices
F5 DATA NAM – WRF 6:00 P.M. CST


9:00 P.M. CST


MIDNIGHT CST


3:00 A.M. CST JAN.01, 2022


NOTE:  The last two maps are indicative of the following portion from the current SPC outlook: Any surface-based storms along or just south of the front will have the potential to develop supercell structures and to produce a few damaging gusts, marginally severe hail, and a couple of tornadoes from about 06-12z.
The following are forecast maps from the SPC NOAA SREF MODEL showing SCP (Supercell Composite Parameters) MEDIAN, ans STP (Significant Tornado Parameter) MEDIAN for the time periods:
SCP PARAMETERS


STP PARAMETERS


Residents within the risk areas should monitor NOAA Weather Radio, and NWS statements tomorrow afternoon regarding the severe weather risk.
The SPC has an ENHANCED risk currently issued for tomorrow.  I will be issuing a synopsis tomorrow morning.


Probability of a tornado within 25 miles of a point.
Hatched Area: 10% or greater probability of EF2 – EF5 tornadoes within 25 miles of a point.

Please use the following maps, which should update automatically, for Mesoscale Discussions and Convective Watches.  You may have to refresh your browser, or click on the graphics.  I am also providing the SPC homepage link, so you may get the updated information regarding any changes to the outlook:
SPC MESOSCALE DISCUSSIONS (CLICK IMAGE FOR UPDATES)


SPC CONVECTIVE WATCHES (CLICK IMAGE FOR UPDATES)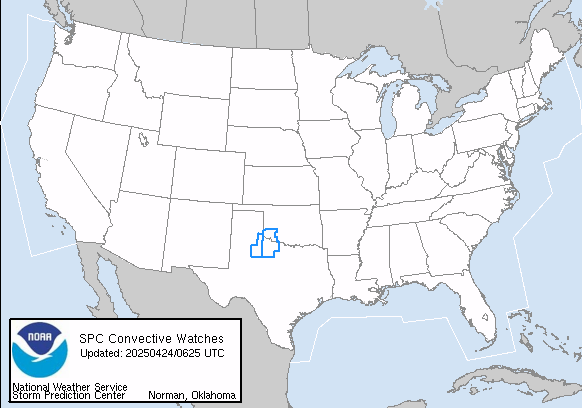 SPC HOMEPAGE LINK
https://www.spc.noaa.gov/classic.html
IF A TORNADO WARNING IS ISSUED FOR YOUR AREA, IMMEDIATELY TAKE STURDY AND SAFE SHELTER
The following NWS Watch / Warning map will provide local NWS information for your area.  Click the image, then once it refreshes, click on your area of interest to view any special weather statements, hazards or advisories for your area.
NWS WATCH / WARNING DISPLAY (LINKED…CLICK MAP, THEN YOUR AREA)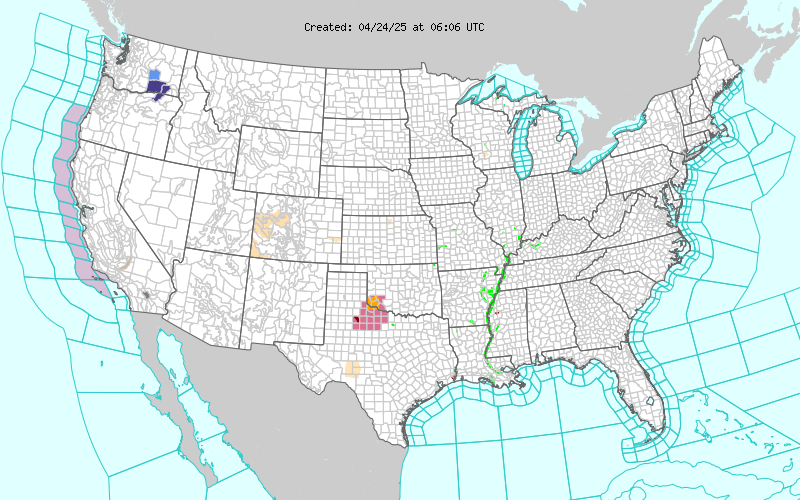 WSI DOPPLER RADAR LOOP (LINKED)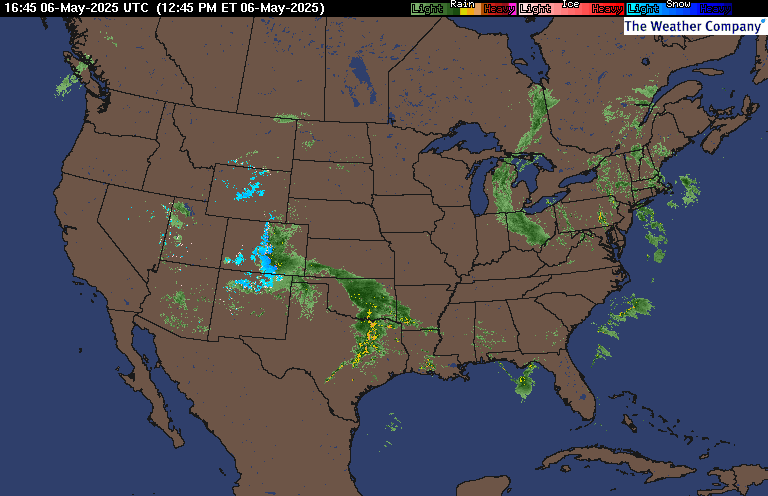 RAP RADAR (CLICK IMAGE THEN RADAR SITE)

You may direct any questions by contacting me personally, ANYTIME, at: [email protected]
Have a blessed day!
T. F. "STORM" WALSH III
GMCS, USCG (ret)
METEOROLOGIST / HURRICANE SPECIALIST /SEVERE WEATHER SPECIALIST