I am just crazy for this pre-soaked, sprouted bean/lentil product. Of course, it's organic, but it's also available for a great price at Costco! It's the TruRoots Organic Sprouted Bean Trio and it contains mung beans, green lentils and adzuki beans.
Most of us know we should be eating beans and lentils once our guts have stabilized to the point where they can digest them, but whilst your gut may not be able to handle canned beans, it may be just fine with this product as the beans and lentils are already soaked and sprouted – thus making them much easier to digest.
In a perfect world you would have enough time to soak and sprout your own beans and lentils, but for many of us, that extra step means we avoid these highly nutritious foods. Which is the other reason I LOVE this product – it's actually easier and faster to make than rice!
SUPER-QUICK BARBECUE STYLE BEANS
Ingredients:
1 cup TruRoots Organic Sprouted Bean Trio
1 yellow onion, finely diced
14 ounces (1 large can) crushed tomatoes
1 garlic clove, minced
1 teaspoon dried basil
1.5 tablespoons honey (or maple syrup)
1 tablespoon tamari (or 1.5 tbsp soy sauce)
1 teaspoon whole grain mustard (or Dijon)
3 cups chicken or vegetable broth (or water with 1 boullion cube, if broth is unavailable)
Extra-virgin olive oil
Directions:
1. In a large saucepan, cook the onions, garlic, and basil in olive oil over low to medium heat for about 5 minutes, or until the onions are translucent.
2. Add 1 cup TruRoots Sprouted Bean Trio, 3 cups broth and all the other ingredients to the saucepan. Bring to boiling over medium heat.
3. Reduce heat to low, cover, and simmer for 15 minutes. Optional: Add 1/2 cup cooked chopped bacon or 1 cup cooked chopped sausage (nitrate-free).
4. Remove from heat, leave covered, and let stand for 10 minutes. Serve.
And yes, my kids and their friends love these beans!
---
Original post April 2013. Most recently updated June 2020.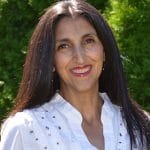 Jini Patel Thompson is an internationally recognized expert on natural healing for digestive diseases. She healed herself from widespread Crohn's Disease and has remained drug and surgery-free for over 20 years. Jini has appeared on numerous podcast, TV, and radio shows throughout the U.S., U.K., Canada, and Australia, giving people hope and vision for how they can heal their Colitis, Crohn's, Diverticulitis and Irritable Bowel Syndrome (IBS), using entirely natural methods. Her books on natural healing for digestive diseases have sold worldwide in over 80 countries.