when an existing community building was destroyed by arson on motu kaikoura — a protected scenic reserve northwest of new zealand's great barrier island — auckland-based strachan group architects (SGA) was asked to redesign it. challenged by a remote location and a very limited budget, SGA utilized prefabrication and collaborated with architecture+women•nz to erect the building as a part of an educational program to train women architects.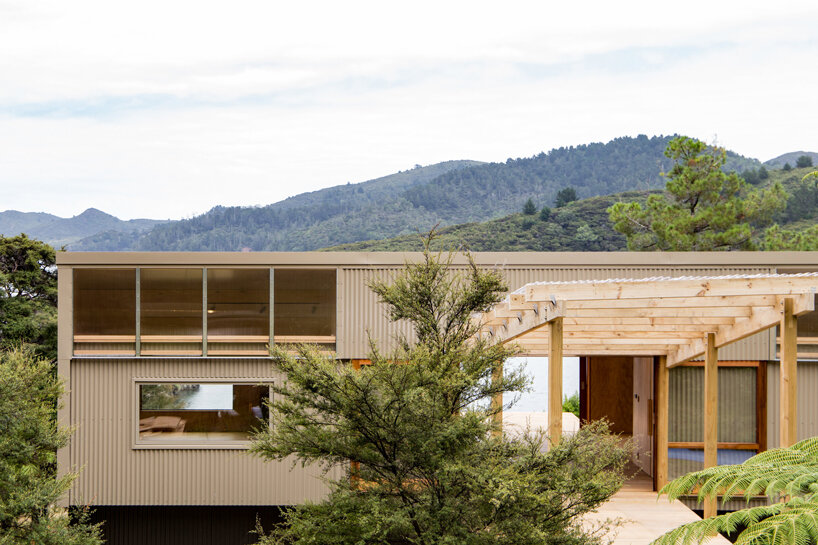 images courtesy of strachan group architects (SGA)
the communal facility is located on the southern side of motu kaikoura and it accommodates research workers, education initiatives, volunteers, and public visitors who come to the island reserve. the new single-story building nestles into the abundant surroundings with its beige-colored metal cladding and timber structural elements. natural wood dominates the interiors, offset by framed views of the lush greenery outside.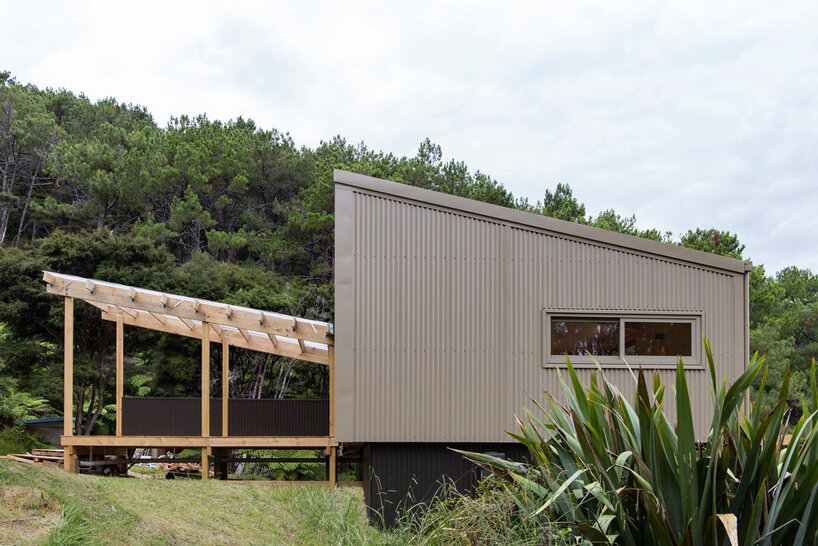 the floor plan contains a kitchen area but the rest of the space is flexible, housing different functions depending on the needs of the community. there are two generously-sized decks on either side of the building that provide outdoor areas and incredible views of the bay. the large openings also help to illuminate the interiors along with the north-facing sawtooth roof profile, which is designed by SGA to imitate the natural bush form.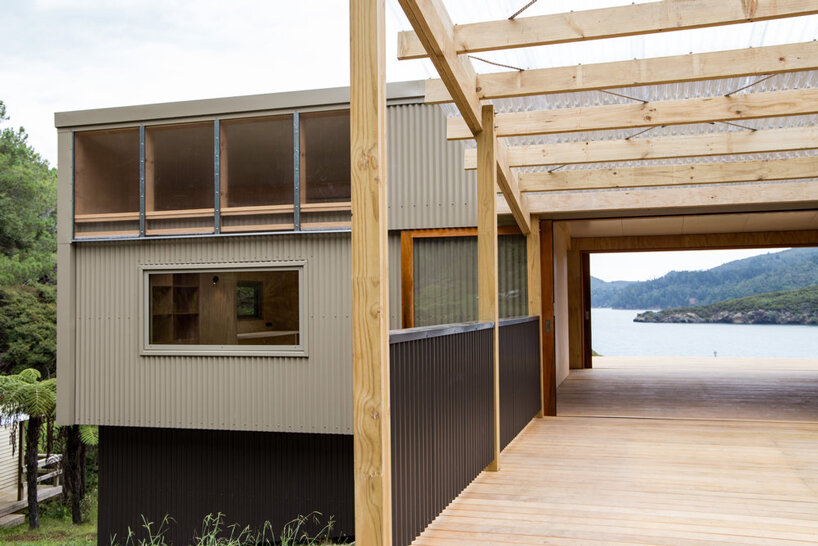 SGA was approached for this project due to its experience in prefabrication. the team formed the structure from panelized components that were constructed in SGA's kingsland workshops, flat-packed, then mounted onto the foundations by helicopter from a barge in the passage below. with this system, the architects met three different criteria: overcoming the remote location, affording buildability for the architecture+women•nz team, and adhering to the environmental policy of the motu kaikoura trust, which manages the reserve.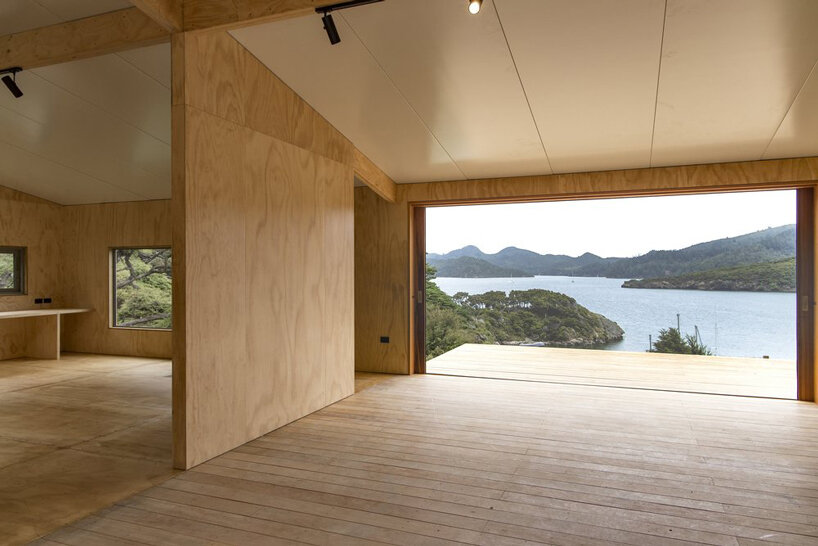 architecture+women•nz is a non-profit society that supports inclusiveness in architecture. for this project, SGA teamed up with them to bring 16 architects and graduates to motu kaikoura and assemble the prefabricated building. it gave the women-led workforce invaluable on-site experience and also contributed to the funding of the works as the collaboration brought financial support from industry partners who either donated or offered discounted construction supplies.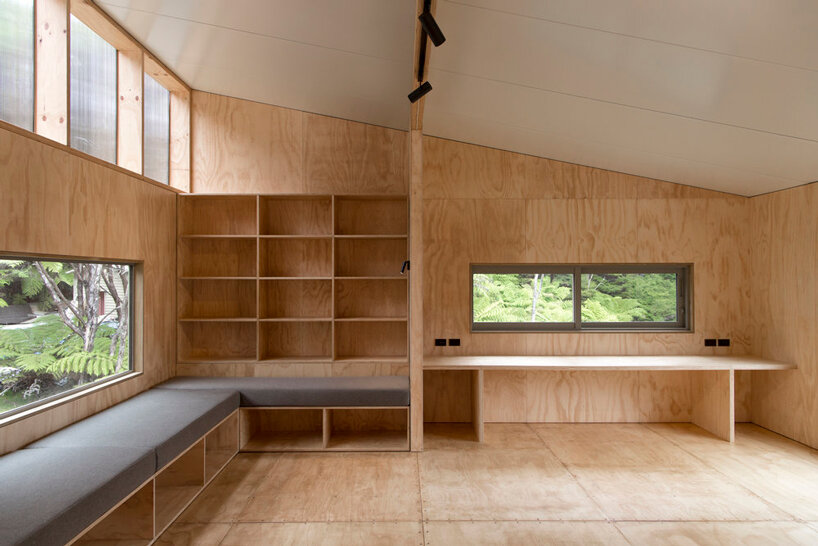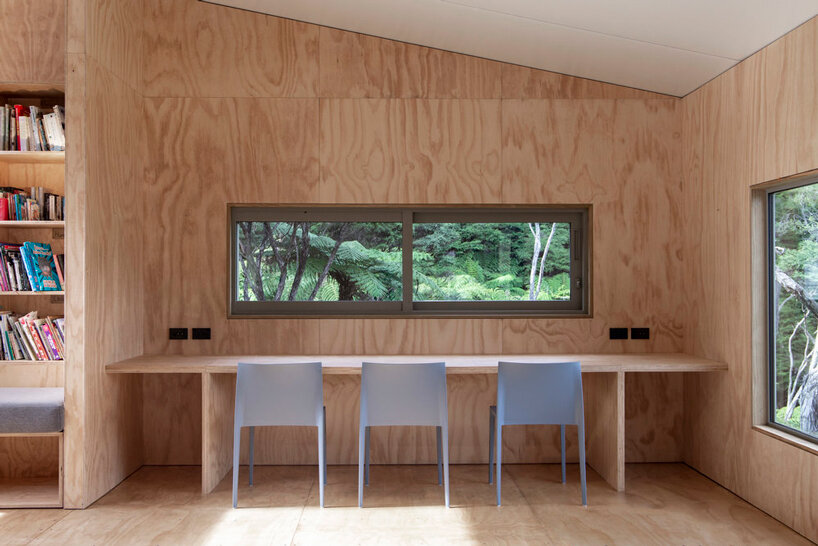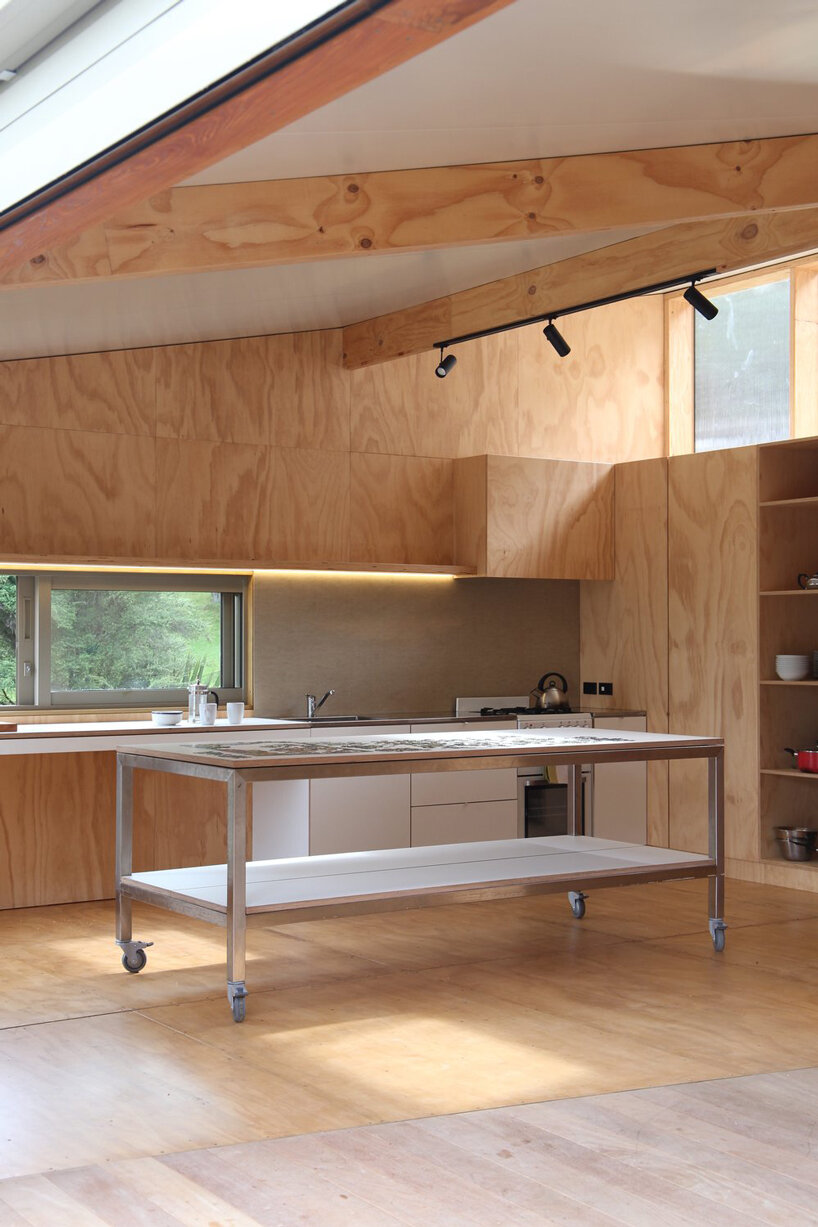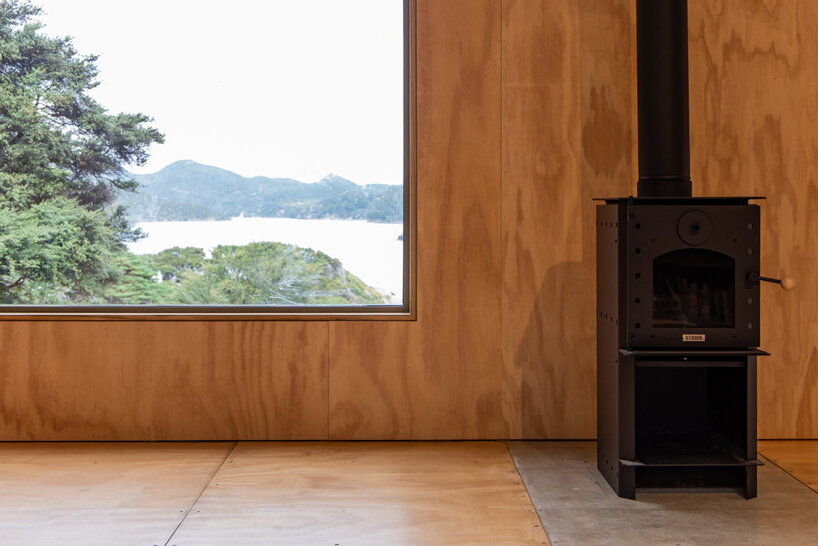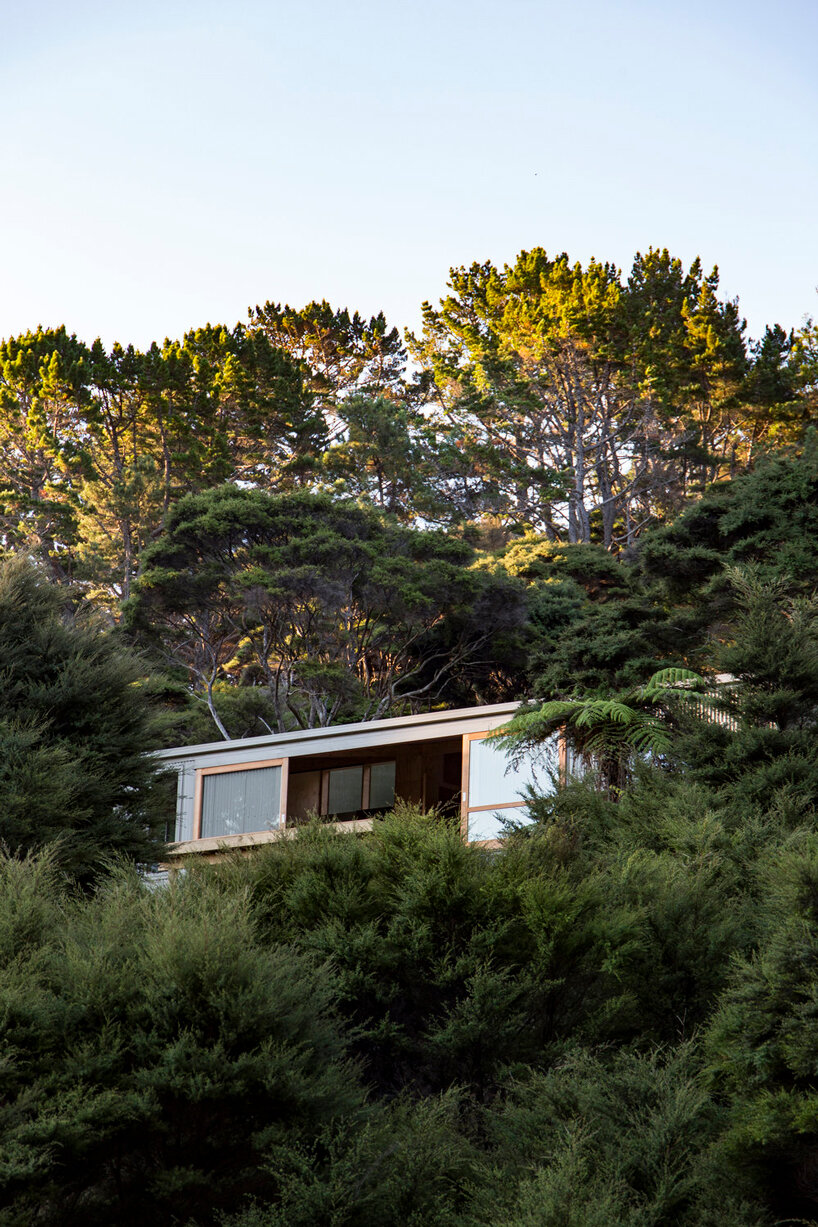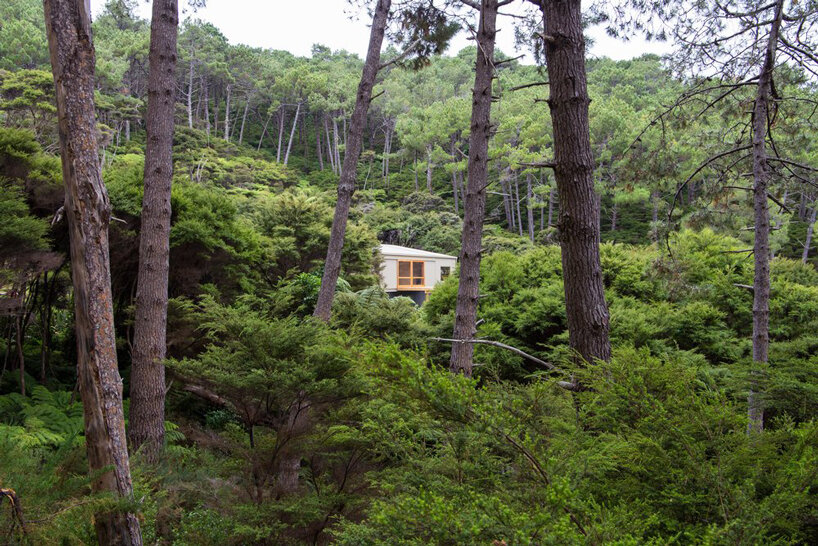 project info:
name: motu kaikoura
location: motu kaikoura, new zealand
architect: strachan group architects (SGA)