studio puisto partners with nature tourism entrepreneur kari vainio with the realization of its newly completed 'uni villas' resort. the micro-resort hospitality concept is both economically practical and ecologically responsible. boldly named after the dreams of entrepreneurs, the overarching aim of uni villas — 'uni' being finnish for 'dream' — is to render it easier for anyone to open nature to everyone else in a sustainable way. as a spatial concept, each uni villa is organized as a modular, U-shaped cabin that features two studio units and one suite all together in a congruent system. this diversifies the accommodation options at hand while maintaining a compact footprint that equally prioritizes both views and privacy. all aspects of the design are considered – down to the included ready-made furniture and keyless, automated check-in.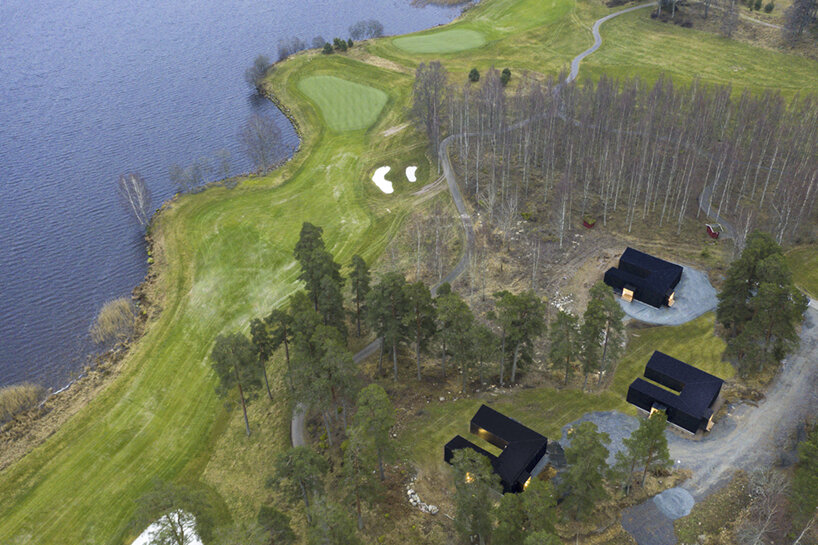 image by marc goodwin, archmospheres
studio puisto wraps each of its uni villas in an outer shell of cross-laminated timber (CLT). each compact unit is designed as a small enough volume to fit on the back of a standard truck, allowing for the entire block to be prefabricated off-site. this widens opportunities to not only ensure an efficient and high-quality construction process, but it also similarly limits the environmental impact on the diverse sites uni villas are meant to find a home on. to aid in this, uni villas features a versatile foundation that is meant to suit even the most remote of locations.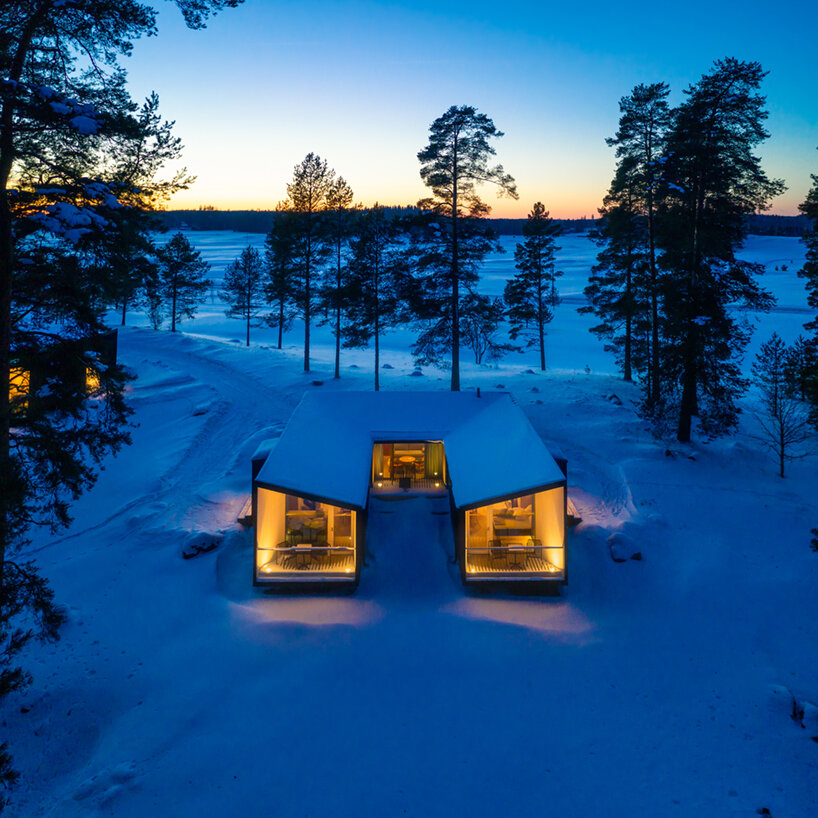 image by DECOPIC
the pilot for uni villas comprises of three modules that are nestled deep into the natural backdrop of kytäjä golf — a series of courses winning the award for best in finland in 2020. there, they provide the area with various accommodation solutions able to suit anyone from families to golfing groups without impeding on the rich landscape that the area is known for. the dark exterior of the uni villas allows the modules to blend seamlessly into their environment while the natural wood tones in the interior create a serene coziness that complements the surrounding forest. after sunset, the recessed spotlights gently wash over the exterior wall surfaces and the indirect lighting inside highlights the tactile textures and materials.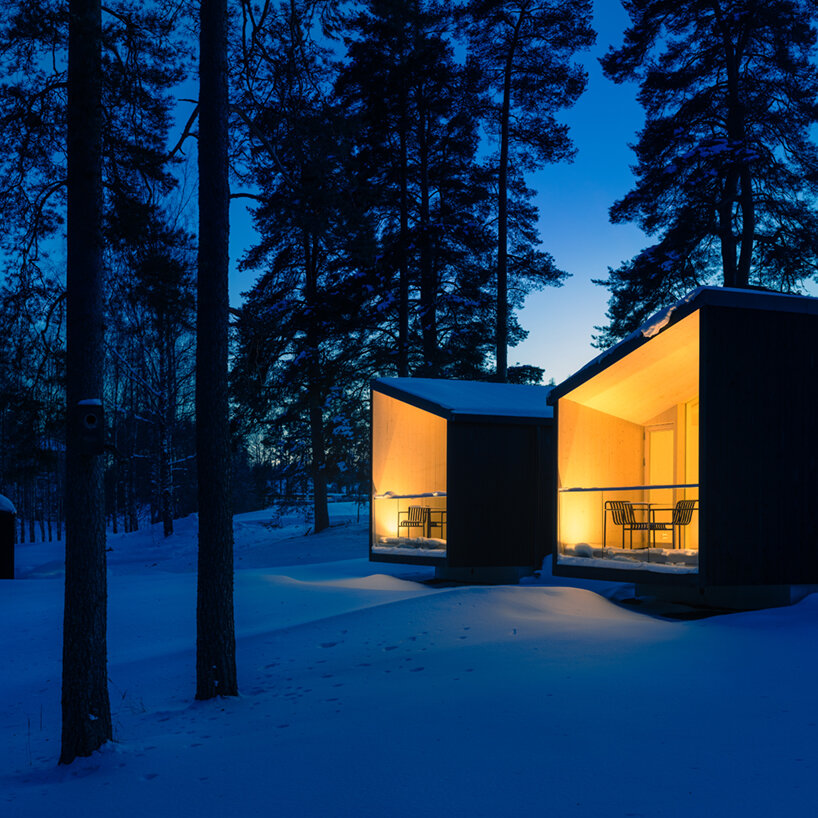 image by DECOPIC
the spatial character between the studios and suite is distinct — the studio apartments deliver a light, fresh atmosphere while the suite warms and wraps around guests with its dark tones. however, both types of accommodation feature sensory-rich details, such as woolen textiles and natural-toned loose furniture, that adds a luxurious depth to the spaces, but in a subtle and harmonious way. the overall interior approach is minimal by design yet provides maximum impact.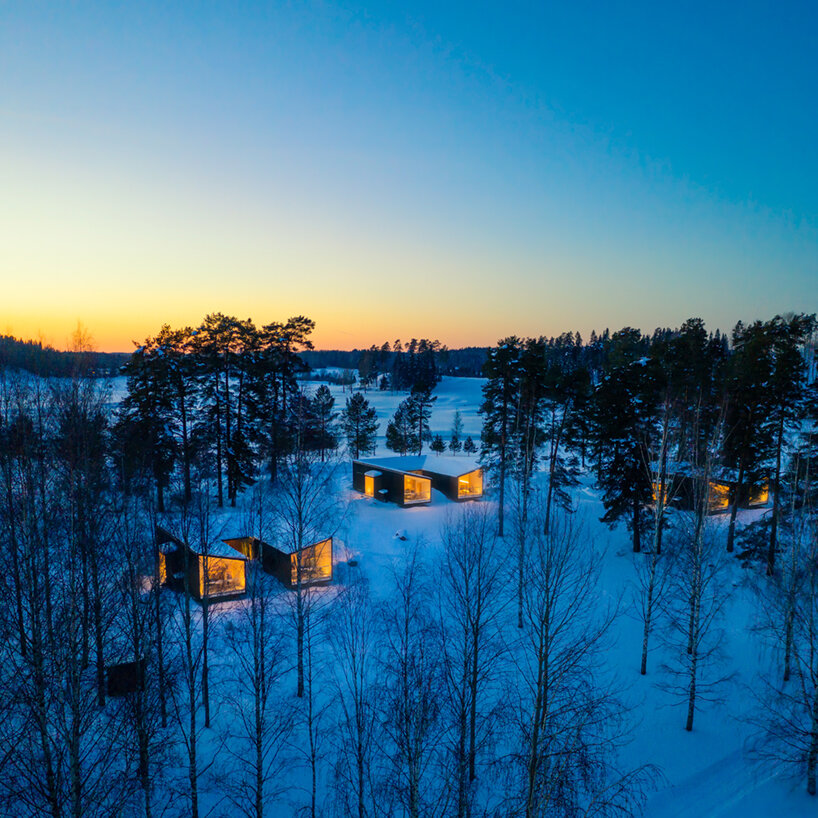 image by DECOPIC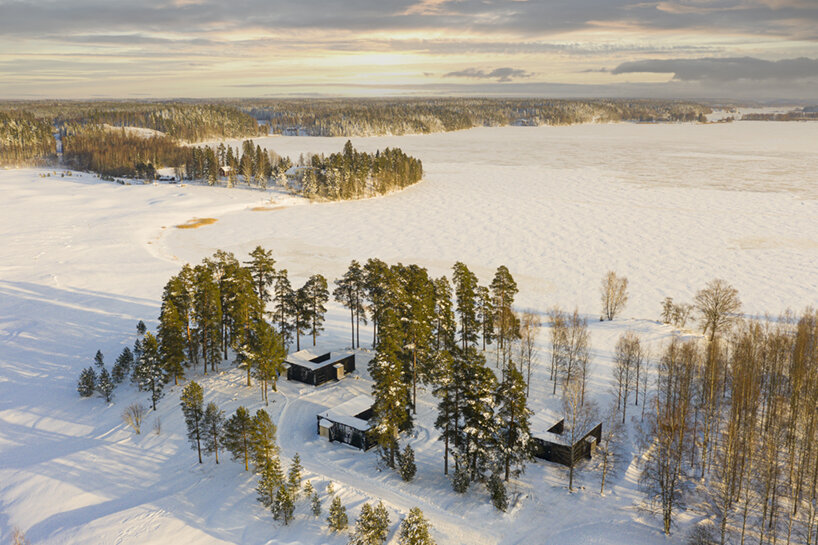 image by marc goodwin, archmospheres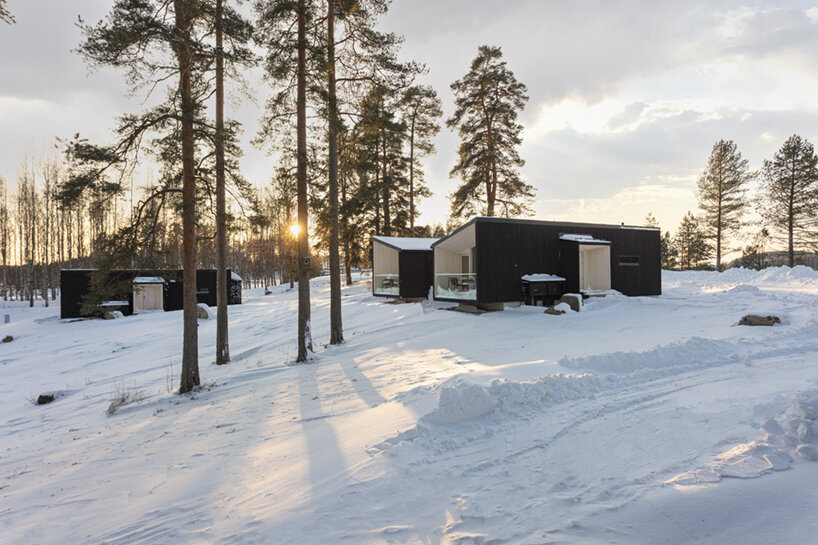 image by marc goodwin, archmospheres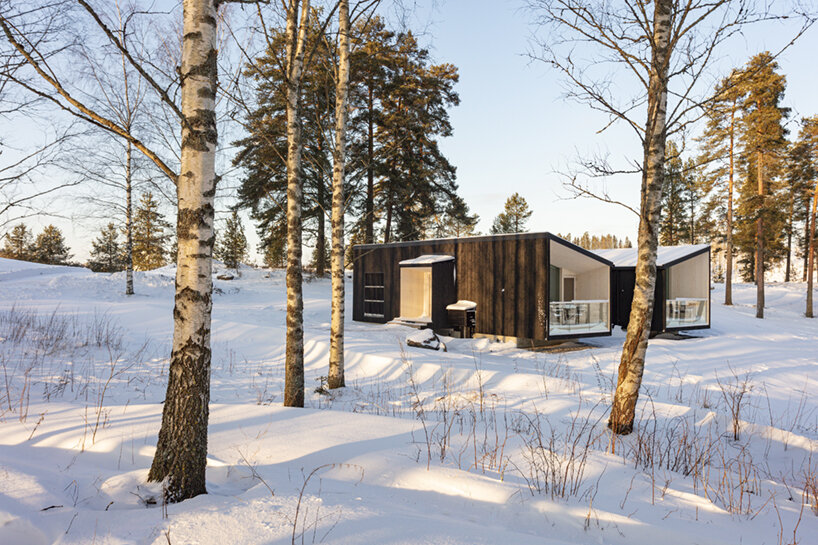 image by marc goodwin, archmospheres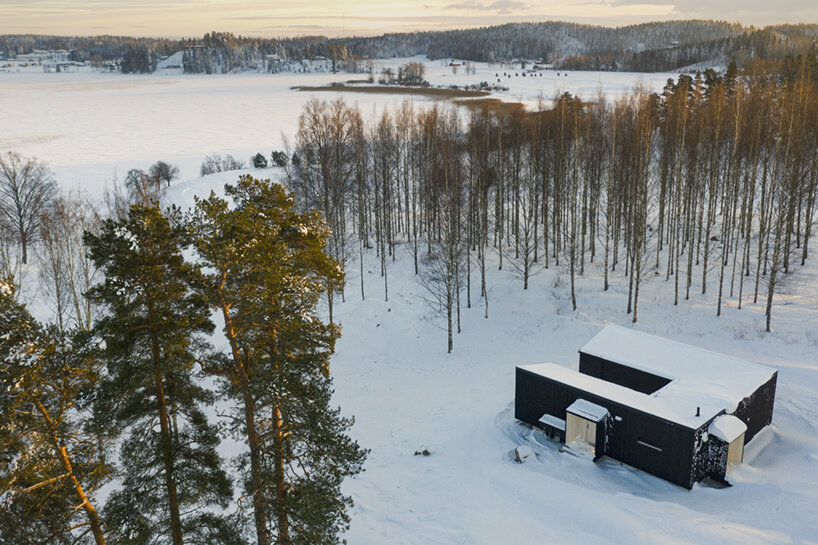 image by marc goodwin, archmospheres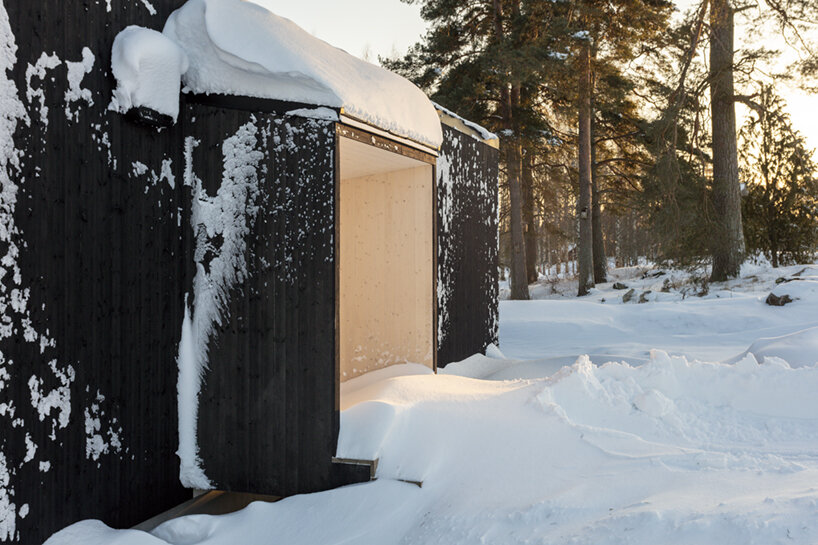 image by marc goodwin, archmospheres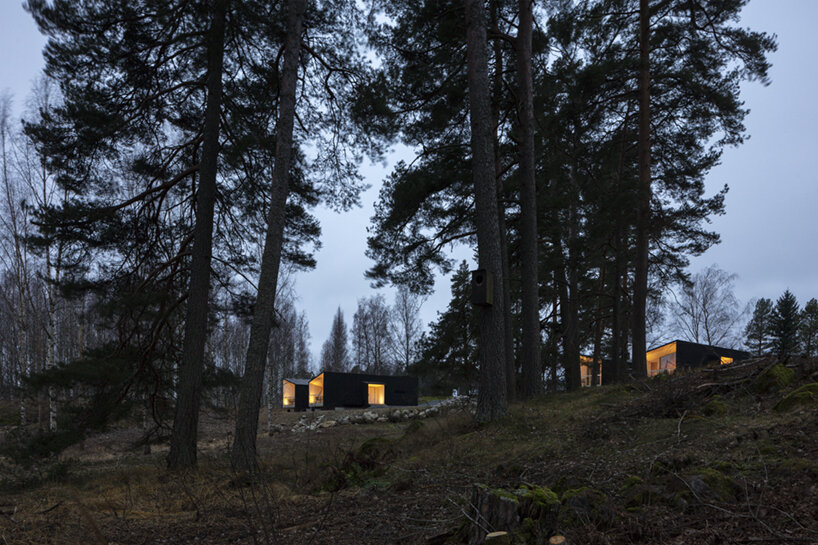 image by marc goodwin, archmospheres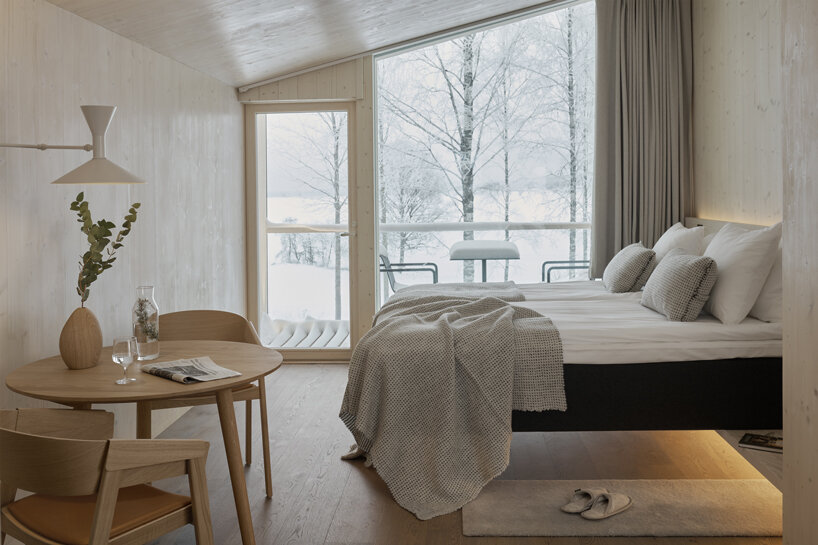 image by riikka kantinkoski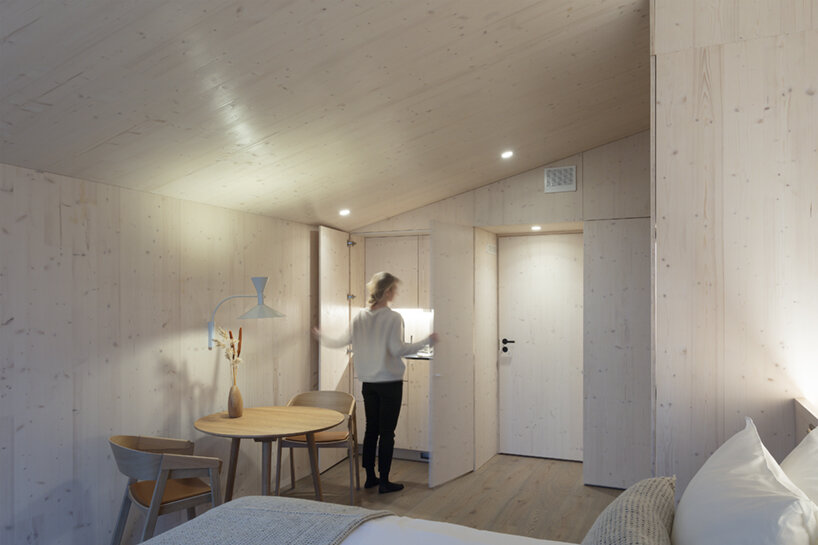 image by marc goodwin, archmospheres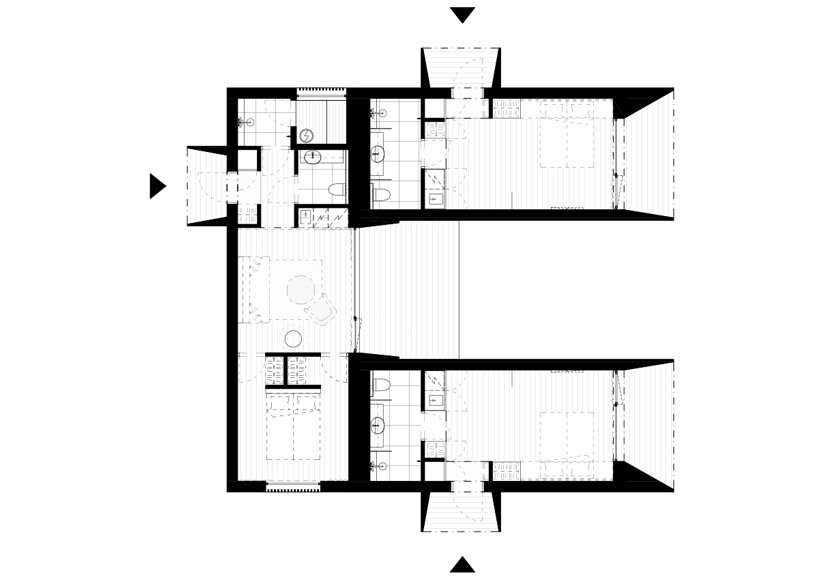 typical floor plan by studio puisto 
project info:
project title: uni villas | @uniresorts
architecture: studio puisto
location: hyvinkää, finland
client: kytäjä golf
design team: maiju koskela (interior), ioana maftei, sami logren, heini perttilä
partners: mikko jakonen, emma johansson, sampsa palva, heikki riitahuhta, willem van bolderen
completion: october 2020
videography: DECOPIC
photography: marc goodwin, archmospheres | DECOPIC | riikka kantinkoski