"Within 1 month, I went from a wheelchair to walking and playing 18 holes of golf.
The best part is that I can now eat everything, sleep, travel, and think business again…"
This is an excerpt from an email I recently received from a reader, who explains how she used Listen to Your Colon to get back to health after a terrible car accident, a misdiagnosis and surgery:
Thank YOU…… for resurrecting me! *Clap*

Jini,

Words can not express my deepest admiration for your outstanding knowledge and ability to share it. Okay, to make an otherwise long story short – horrible digestive issues started days after I was hit full speed by an SUV Ford Explorer. The 21-year old driver was busy texting. Fortunately, I was in a golf cart; to prevent being ejected on the 4-lane pavement, I held on to the steering wheel.

When rushed to the ER 2 weeks later, my condition was wrongfully diagnosed as a "bowel obstruction caused by scar tissue left by my hysterectomy" that took place at that same medical center 4 years earlier…

Ten 'attacks', two hospitalizations, four GI and two primary physicians later (2 years more precisely), a GI surgeon denied that scars can be seen through tests (X Rays, ultrasounds, MRI, etc.) and suspected that the gallbladder was faulty. So, my "scarred, inflamed" gallbladder was removed on March 18th. Sure enough, it was sneakily poisoning my entire digestive system. Now my stomach had to be carefully detoxed and rebuilt because it could barely process anything. To make matters worst, excessive bleeding during the surgery generated severe anemia.

But from everything bad comes good, right? The downtime gave me the occasion to read your book 'Listen to your Colon'. As a last resort, I ordered every product you recommend in it. OMG, they work! Within 1 month, I went from a wheelchair to walking and playing 18 holes of golf. The best part is that I can now eat everything, sleep, travel, and think business again.

Hoping that this ordeal could eventually help some readers, I will remain eternally grateful to you and your dedicated team.
WOW – thank you SO much for sharing your story with us. I am most impressed by this woman's positive attitude and zest for life, despite going through such a terrible sequence of events.
I also chuckle as she says, "as a last resort…" It's funny, but it's true, my protocols are often people's last resort after putting their faith in medical treatments and getting nowhere, or, getting worse.
However, as always, I would also encourage her to look at her life patterns, childhood traumas, and other emotional issues that may be being expressed through the physical body. Great tools to do this include hypnotherapy, craniosacral (at Level 2 or higher) and acupressure tapping – check out my new course and try a free session, see what you think!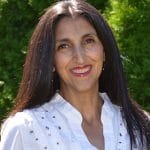 Jini Patel Thompson is an internationally recognized expert on natural healing for digestive diseases. She healed herself from widespread Crohn's Disease and has remained drug and surgery-free for over 20 years. Jini has appeared on numerous podcast, TV, and radio shows throughout the U.S., U.K., Canada, and Australia, giving people hope and vision for how they can heal their Colitis, Crohn's, Diverticulitis and Irritable Bowel Syndrome (IBS), using entirely natural methods. Her books on natural healing for digestive diseases have sold worldwide in over 80 countries.