quirky, vintage, and electric, a 1960 taylor-dunn trident runabout goes on auction at RM sotheby's. the taylor-dunn model was born in southern california in the mid fifties, sporting three wheels and an electric motor originally with only one horsepower. while SUVs and supercars are commonplace on the streets of los angeles today, the sixties saw an entirely different kind of city. the micro-cars once ventured out across suburban LA, intended by its founders for grocery store runs and even celebrated as a glorified shopping cart. the team at sotheby's has not yet unveiled the capabilities of this meticulously restored character, but images suggest a fully wired set of batteries stowed beneath a freshly upholstered bench seat.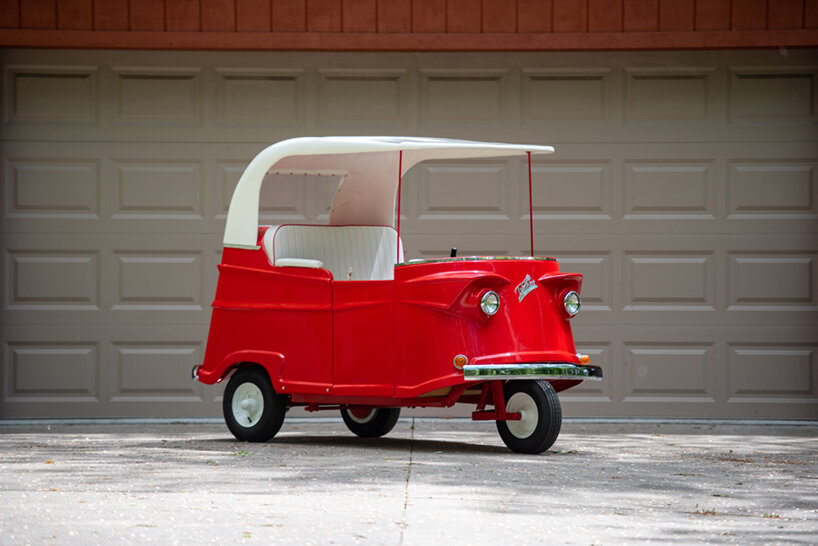 images © 2021 courtesy of RM sotheby's
with its breezy, california attitude, the 1960 taylor-dunn trident runabout will auction the week of june 23rd, 2021 — just in time to launch the beginning of the summer. as americans begin venture out with the easing of the pandemic, the playful, three-wheeled micro-car will surely turn heads. gestural lines accentuate its seven-foot long body, from its personable eyebrows all the way to the rear, while the roofline overhead and the curving windshield meet almost seamlessly to create a sharp and futuristic presentation. the runabout is expected to sell at RM sotheby's for $15,000 — $20,000 USD.