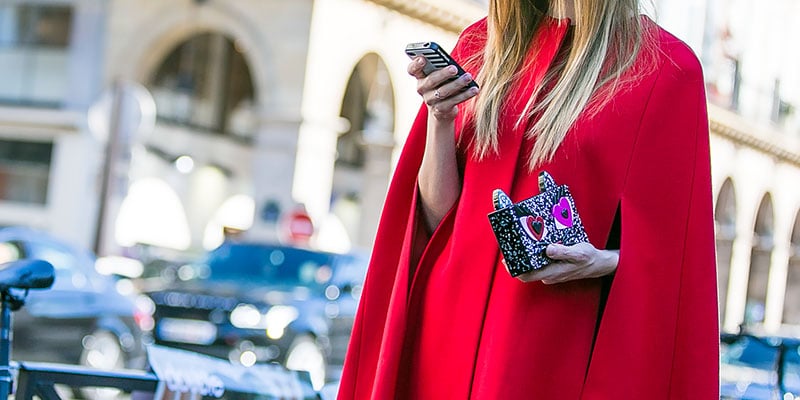 Once again the streets of Paris Fashion Week Spring 2016 have caused a paparazzi frenzy this year. With so much trend-worthy style on show, all the flashing cameras were easily justified. While outfits were as fashionable as ever, it was the handbags that truly captured everyone's interest.
Here are the top bag trends that were spotted roaming the streets at Paris Fashion Week Spring 2016.
RELATED: The Best Street Style from Paris Fashion Week Spring 2016
Fur Pom Poms
There's nothing like a puff of fur to add texture, detail and a healthy dose of fun to your handbag. This season cheerleaders aren't the only people carrying pom poms, everyone is! Of course the fashion variety is smaller, made of fur, and hanging off your bag. These quirky attachments were seen dangling their way through the streets of Paris this year and are perfect for transeasonal dressing. Useful for turning a classic bag in to a statement piece, fur pom poms are great in any colour. They can even be paired with a mini bag or multiplied for greater effect.
Get The Look
Fringed Bags
Continuing on with this year's 70's trend, fringed bags made a large appearance at Paris Fashion Week Spring 2016. Whether it was covering the front of the bag or in an oversized tassel, fringing was kept modern through innovative applications. Mostly appearing in sleek leather and matching the colour of the bag, fringing was spotted on all bag styles from clutches to cross-body bags.

Get The Look
Bags With Added Graphics
A little childish mischief was injected into bags this year. Colourful patch-like images and perplex appliques were spotted attached to the bags of many trend-setters. Whether a face, flower, bow or words, bags with added graphics were everywhere. These fun, cartoon-like bags are an easy way to add a breath of fresh air to your wardrobe and put a smile on your face.

Get The Look
Mini Box Bags and Clutches
Nowhere to be seen this year were oversized, slouchy totes. Instead, mini box bags and clutches reigned supreme. Small, structured and strong, mini box bags are currently one of the biggest accessory trends. These bags look chic when carried as a clutch or with a hard handle. Add graphics to make it a standout piece or keep it plain to look polished and minimal.
 

Get The Look
Wooden Details
Although not a traditional handbag material, wood and faux wood details made a trend-worthy appearance on the streets of Paris. Whether it was a whole clutch or simply a handle, wood created a strong look for several bags. This material can create innovative shapes and its grain can be used to provide interest far beyond any block colour. Choose wooden details in warm brown colours to tie-in with the 70's trend.

Get The Look
SUBSCRIBE TO OUR NEWSLETTER
Subscribe to our mailing list and get interesting stuff and updates to your email inbox.