My good friend Katie Hess is offering a unique, yet powerful program – using flower remedies, online support, and a soul-searching playbook – to help you:
– Unravel and shift old habits
– Become aware of and release what holds you back
– Open to a richer, more vibrant life
Katie's flower essences and elixirs are sold at retail stores all over the world, at some of the world's leading hotels, and transformational spas. My own kids each snagged one for their own use and my son got the spray version so he could spray it on himself before going to sleep.
The thing I REALLY like about this program is it is NOT just comprised of digital information/products. But you will actually receive a custom-blended flower elixer (remedy) every month for 6 months. The flowers in each elixer are chosen specifically to purge specific self-limiting patterns, so you feel more fearless, free and confident to stretch beyond your current limits.
Flower elixirs are like liquid chi – an infusion of pure good vibes from flowers – that travel through your acupuncture meridians. But they have also been studied extensively in Europe and shown to reduce prescription drug use in pregnant women by 50% – due to a reduction in stress.
If you've been wanting to try flower remedies, this may be the ideal way for you to start! Check it out…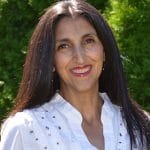 Jini Patel Thompson is an internationally recognized expert on natural healing for digestive diseases. She healed herself from widespread Crohn's Disease and has remained drug and surgery-free for over 20 years. Jini has appeared on numerous podcast, TV, and radio shows throughout the U.S., U.K., Canada, and Australia, giving people hope and vision for how they can heal their Colitis, Crohn's, Diverticulitis and Irritable Bowel Syndrome (IBS), using entirely natural methods. Her books on natural healing for digestive diseases have sold worldwide in over 80 countries.