UNstudio introduces its newly designed st. petersburg office building for international software development company jetbrains. the project will transform the company's existing site into a contemporary and immersive campus environment. with nine offices scattered across europe, the U.S. and russia, the new building and its distinct identity will help the st. petersburg office attract unique talent. focusing on connectivity and openness, the team at UNstudio seeks to create a space that fully engages people and enhances their everyday lives as a place to meet, exchange ideas, and meditate — all while looking out over the sweeping views across the scenic gulf of finland.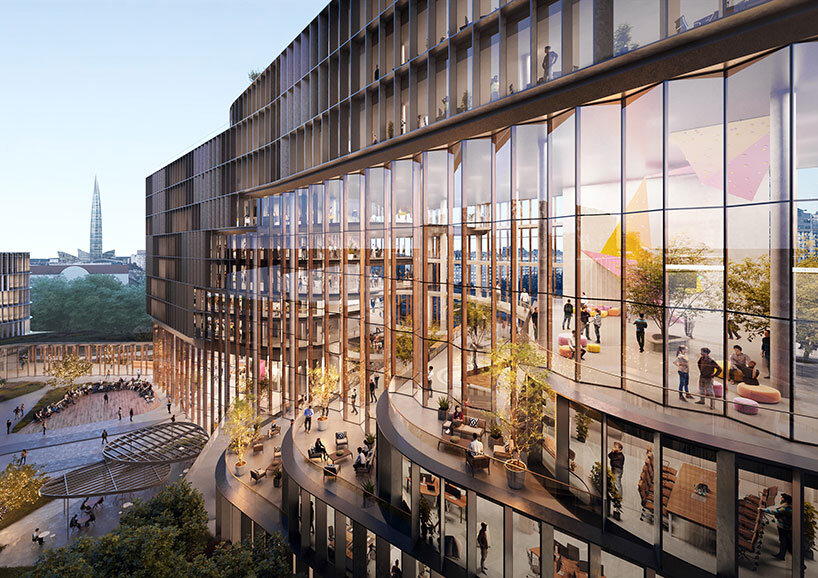 visualizations by ZOA, AAND3 | courtesy of UNstudio
informed by its long history of workspace design, the team at UNstudio develops its jetbrains office space with a focus on the health, wellbeing, creativity — and therefore productivity — of its users. within the design of such spaces, both physical vitality and psychological mindfulness are prioritized as one, while a community-centric environment serves to encourage communication, interaction, knowledge, and creativity. designed to follow jetbrains' positive approach to work culture, the new campus includes custom healthy work stations for all 1,000 newly housed employees.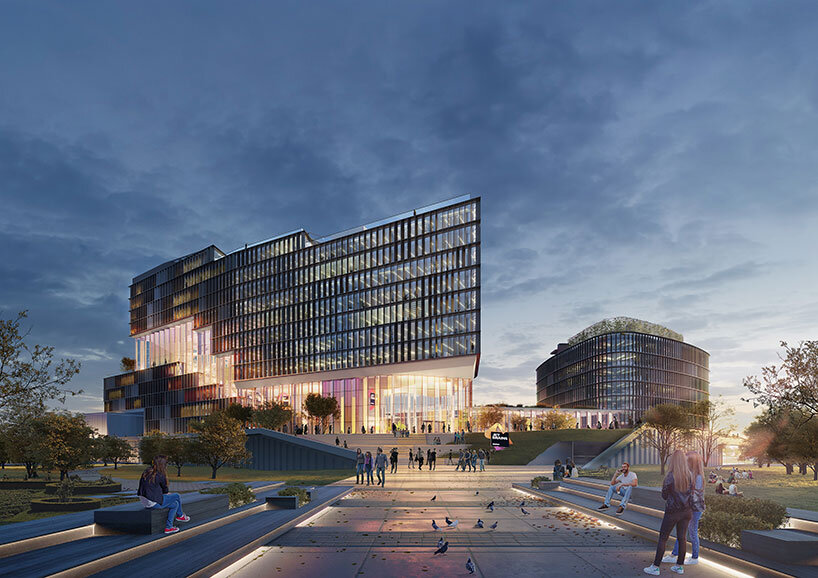 at the center of the design, a large, vertically stepped, indoor atrium spills out to become a series of outdoor courtyards and terraces. this atrium forms the core of the new jetbrains community, as it creates the conditions for physical, mental, social, and environmental health. this ample open space stands in contrast to the office floors, which are based on team and individual focus. UNstudio founder ben van berkel comments on the design of the jetbrains campus in st. petersburg: 'we pay a great deal of attention to how people move through buildings. office spaces are designed in such a way that they do not create simple linear corridors leading to dead ends, instead each corridor has a route that introduces a kind of landscape into the building. the possibility is created to take endless walks through the building, where there is a great deal of transparency, also towards the surrounding landscape.'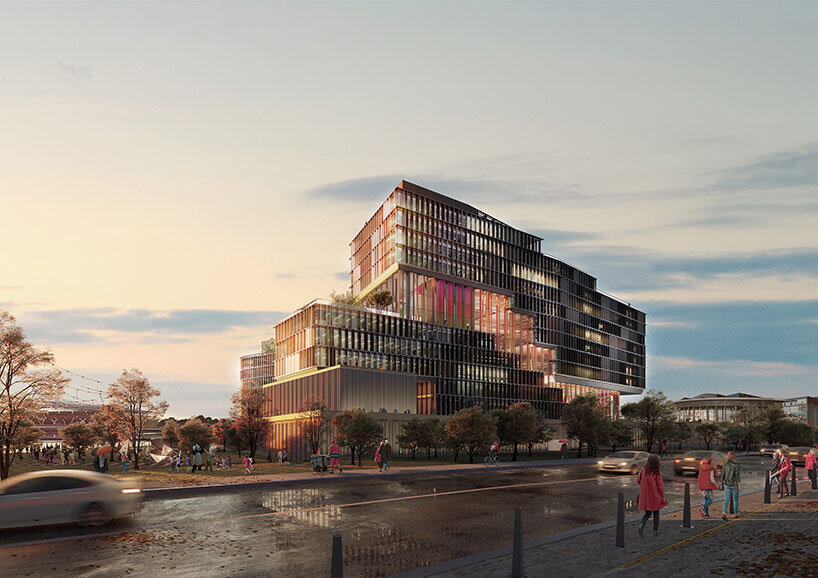 UNstudio's facade design embraces a sustainable approach, blocking heat gain while providing daylight. for the large atrium, a highly transparent and stable zigzag glazed facade was chosen, sometimes spanning five floors. in addition to a soft acoustic shading device on the inside of the glazed skin, cantilevers shade the facade. the lower and upper volumes use a rational grid facade, composed of unitized elements. protruding glazed ceramic elements provide shading, reflect light, and create a tactility and reflection that will play with the constantly changing light of the skies over st. petersburg and the gulf.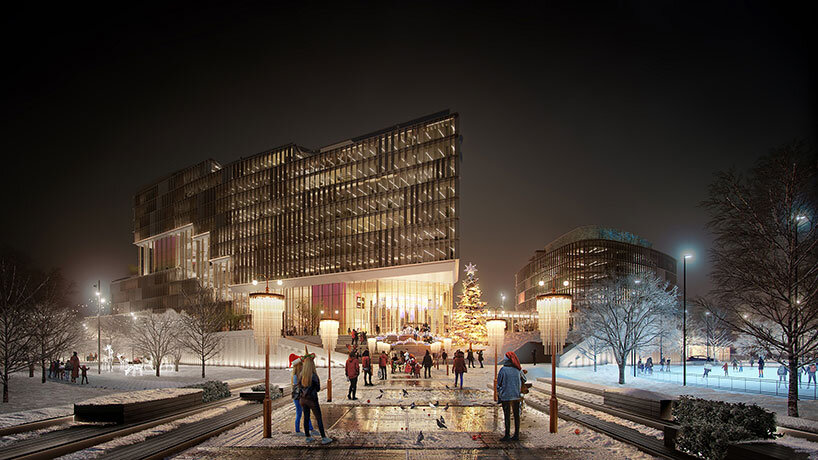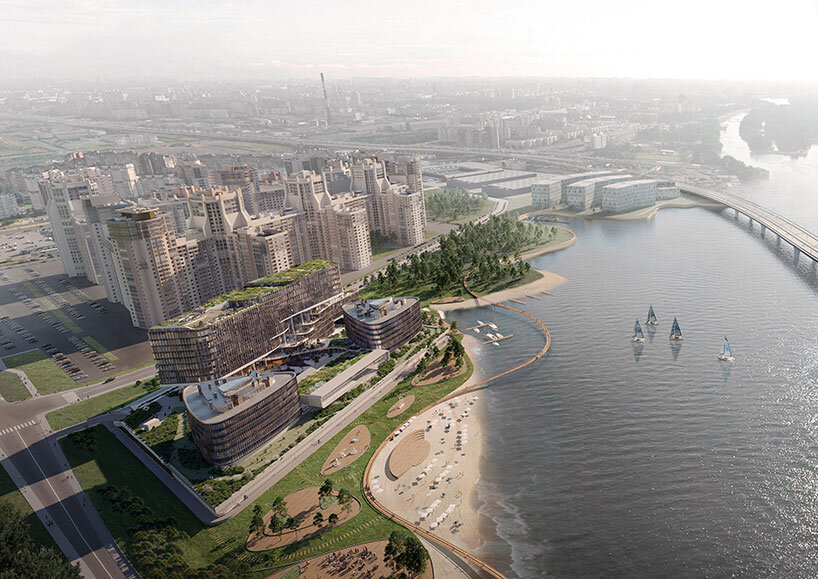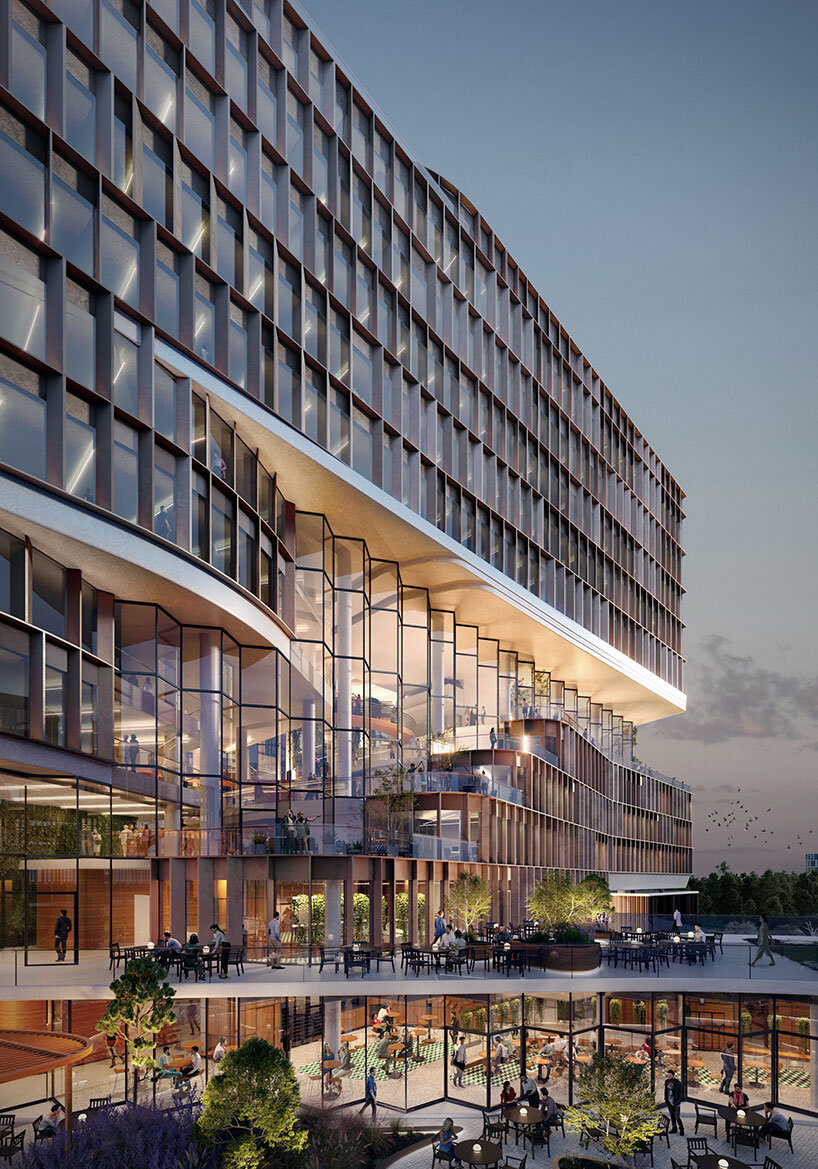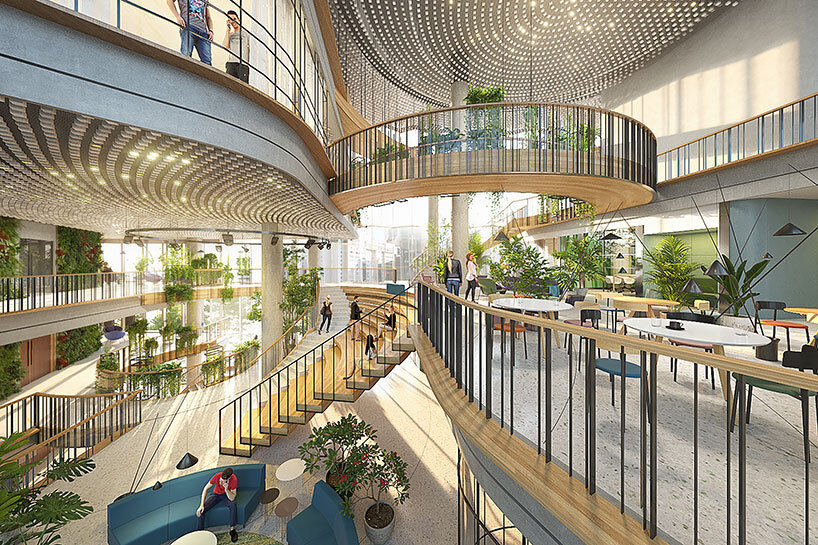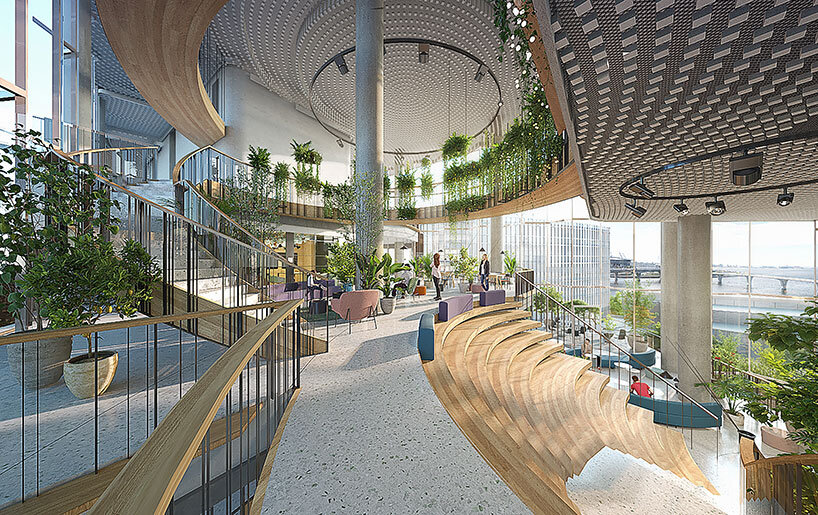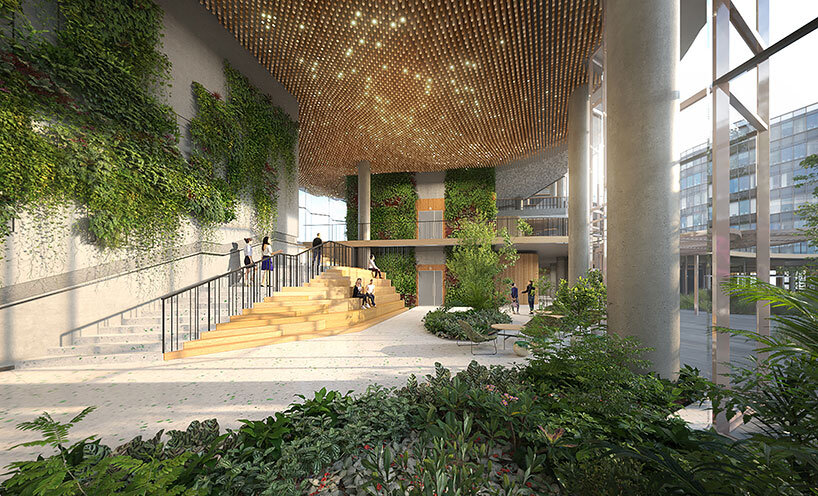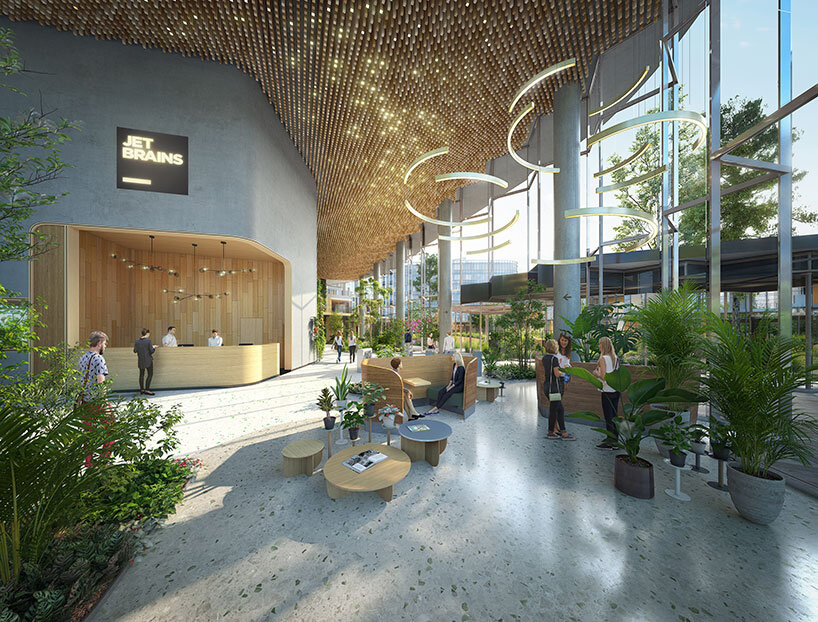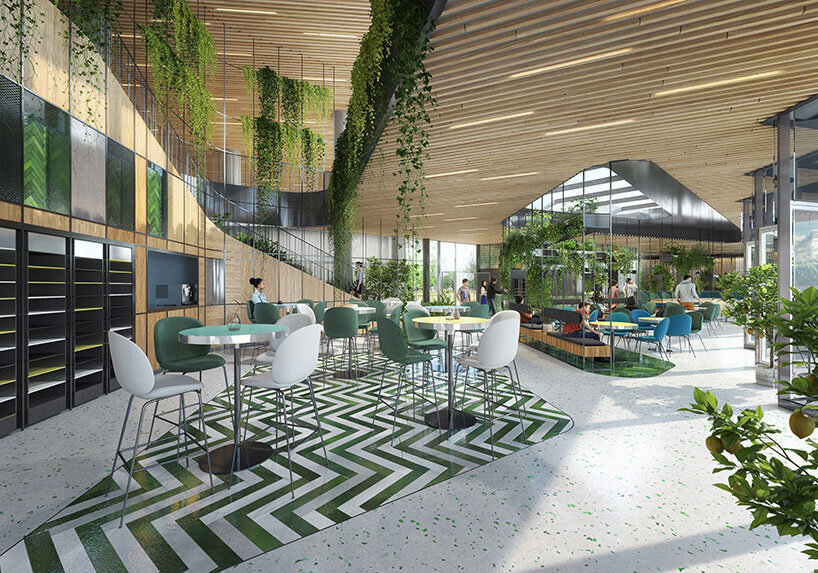 project info:
project title: jetbrains campus
architecture: UNstudio
location: st. petersburg, russia
design team: ben van berkel, frans van vuure with alexandr kalachev and melinda matuz, natalya kuznetsova, caterina micucci, leon hansmann, alexandra lukianova, michele de simone, raul forsoni, saba nabavi tafreshi, derrick diporedjo, eva poulopoulou, jose sanmartin, jahan tahamtan, rachel picot, alina tueran
façade engineering: ramboll dubai
structure: MTM
landscape design: loosvanvliet
lighting design: atelier ten
signage and wayfinding: optimist creative
acoustics: DGMR
client's project management: DBC consultants
client's local engineer/architect: spectrum group
visualizations: ZOA, AAND3