london's V&A museum has joined forces with make architects to launch a virtual gallery showcasing the work of artist ben johnson. set within the museum's john madejski garden, the digital venue comprises a dozen pavilions, containing 10 paintings by johnson as well as a look inside the artist's studio and the process behind the creation each piece. created in meticulous detail, johnson's paintings are large-scale interpretations of architectural landmarks, from the crystal palace to neues museum — paintings that are sometimes years in the making.
'ben talks so articulately about the buildings that inspire him — he has a real empathy for architecture,' christopher turner, keeper of design, architecture and digital at the V&A, says at a virtual panel discussion attended by designboom. 'in his own description, his paintings celebrate everything that he thinks is great in architecture and engineering — not the ego of the architects, but the ambitions of architecture.'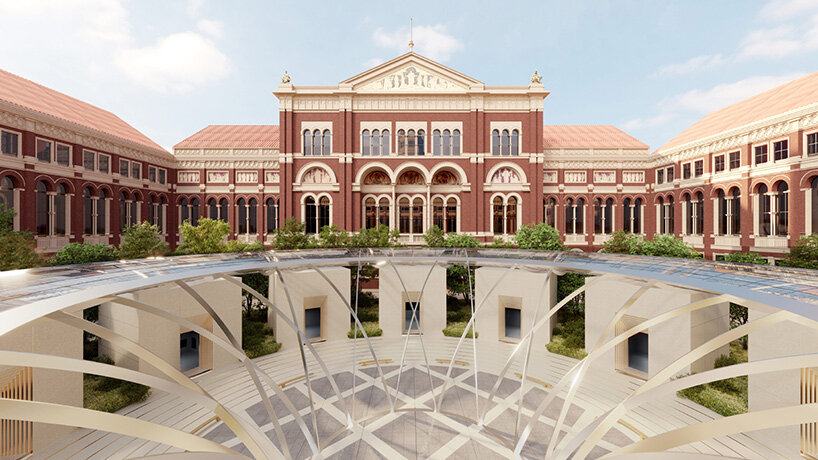 the 'vault of contemporary art' has been designed by make architects
coinciding with the london festival of architecture, the 'vault of contemporary art' (VCA) can now be accessed via a dedicated website where visitors can navigate the virtual space. 'it's a series of 12 pavilions that, for this exhibition, we chose to land in the V&A, almost like a UFO,' turner explains. 'we wanted to give it the context of the V&A.' to design a pavilion that looked and felt like a real building, turner collaborated with make architects, the international firm founded by ken shuttleworth.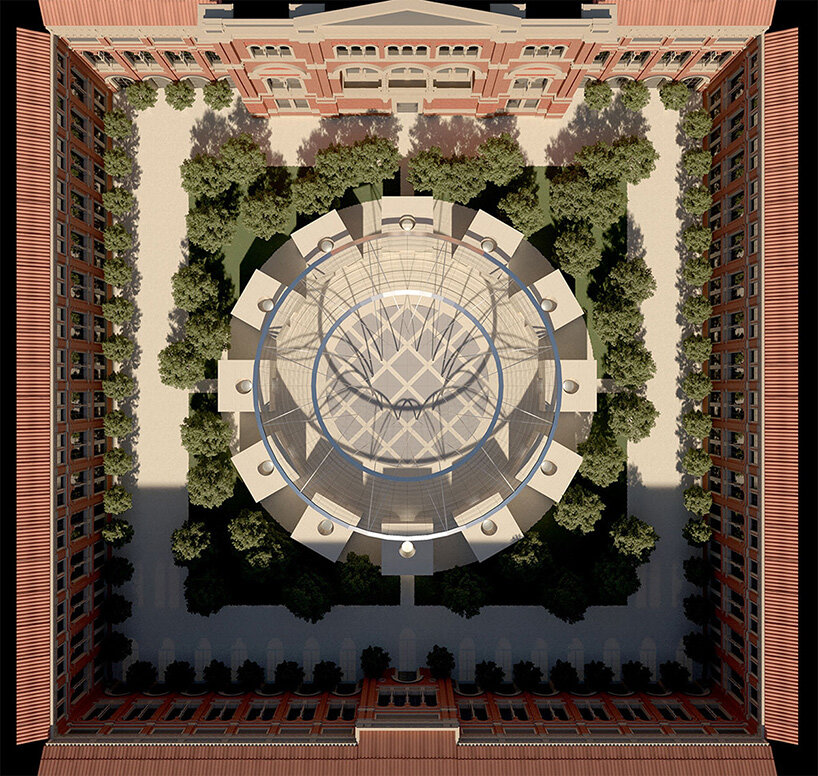 an aerial view of the virtual pavilion
the architects approached the design of the VCA in much the same way they would one of their physical buildings — using placemaking skills to create an exhibition environment that is connected to familiar things, while making use of the flexibility provided by the digital world. make architects considered issues of scale, lighting, ease of orientation and even the materials that comprise the virtual architecture, but also — uniquely for the digital world — the layers of content that could be embedded in individual exhibits. the overall result is a procession of distinct gallery spaces that offer infinite display and engagement possibilities.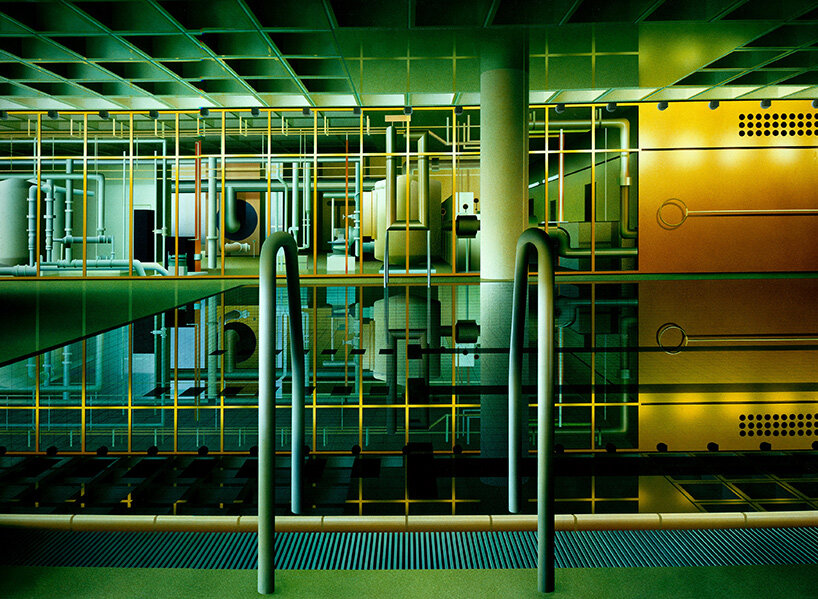 poolside reflection, 1984 | acrylic on canvas | collection of the royal institute of british architects 159 x 217cm
image © ben johnson
'short of a decent roof and some waterproofing details, this could be built,' says make's greg willis, the project's lead architect. 'working in architecture helps you see the world in a very specific way. you appreciate spaces, light, scale and materials and how they layer to provide an experience. translating this to a digital world has been fascinating, especially in collaborating with artists and galleries. it presents a wonderful way to explore the possibilities of this new creative stream and how architecture can enhance the experience for the digital visitors.'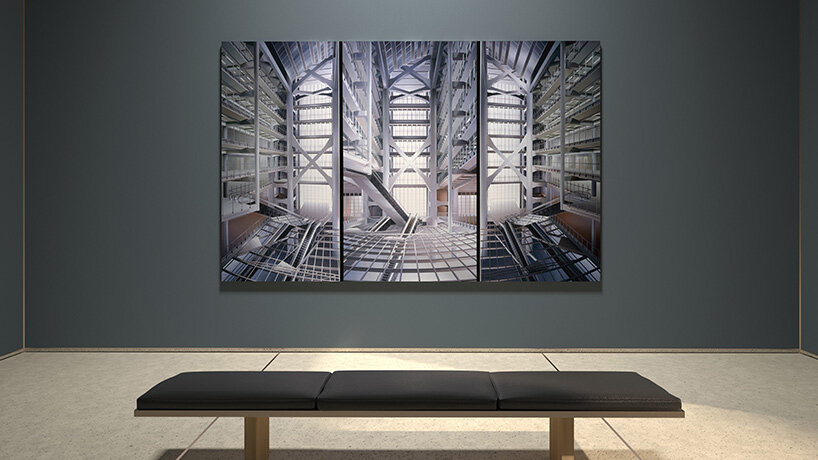 gallery view of 'three moments of illumination'
often confused with photorealism, ben johnson's paintings explore complex perspectives, sometimes constructed from impossible viewpoints and depicting lost buildings. with their crystalline light, carefully chosen framing, and solemn solidity, they show the powerful underlying geometry of the structures johnson most admires. 'the first painting I saw of ben's was norman foster's willis faber building in ipswich,' christopher turner continues. 'the painting, which shows the ground floor swimming pool in the building, totally captivated me. it was full of glamour and geometry, and captured something of the generosity that foster injected into his building by blurring work and leisure.'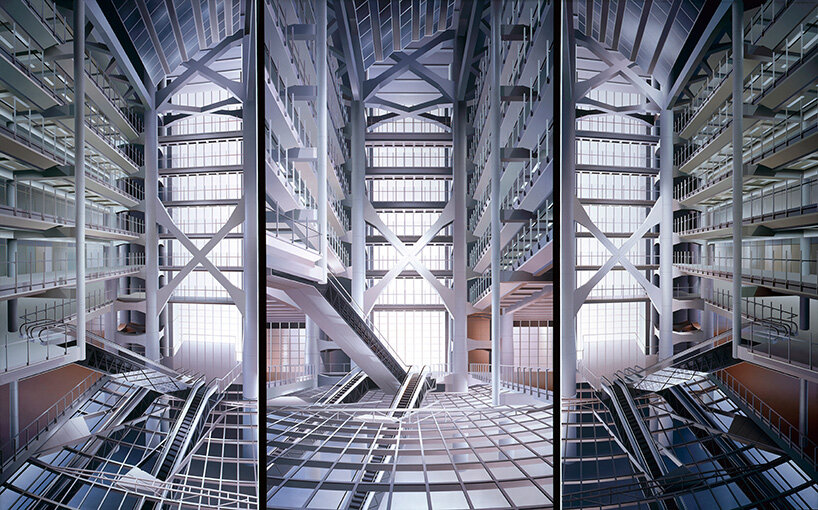 three moments of illumination, 1998 | acrylic on canvas | collection of HSBC holdings plc | 274 x 432cm
johnson studied at the royal college of art in the 1960s, when it was based at the V&A, and his work is inspired by the museum's collections. one of the VCA pavilions explores these references and influences as well as johnson's working processes in depth. another pavilion is designed to house a behind-the-scenes look at johnson's london studio through an interactive experience that invites visitors to explore the artist's tools and day-to-day objects he surrounds himself with when working. 'I see my painting as a process of meditation,' johnson says. 'I see the paintings as being a concentration of my inspiration.'