in a time where cities grow larger, relationships grow apart and the need for body and mind to escape spirals. in an attempt to find refuge from the urban chaos, veliz arquitecto imagines 'oasis'; a personal reach out to a utopian retreat of tranquility. whether it is a physical or a mental place, comfort and serenity can take various forms and shapes, and in jorge's visualization they become contemporary caves in the midst of fertile, green lands.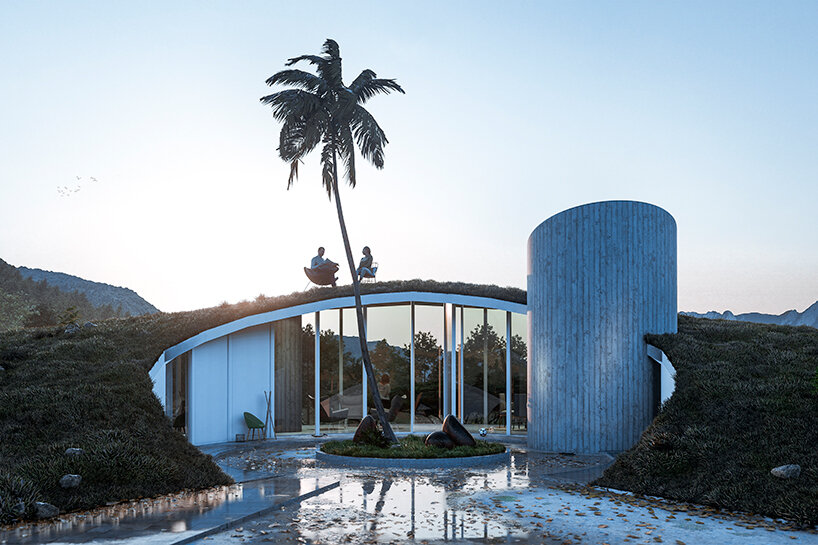 all images courtesy of veliz arquitecto
veliz arquitecto depicts this desire of self-contemplation through a circular, all-white retreat with a walkable roof dressed in a green veil. an interchangeable relationship between the in and outdoors evolves as the structure appears to emerge and take shape from the soil in a spiral-like ramp, fitted with large curtain walls. as the organically fashioned 'oasis' unravels, the openings create an ephemeral transparency between the building and surroundings; a possible metaphor to personal relief and acceptance.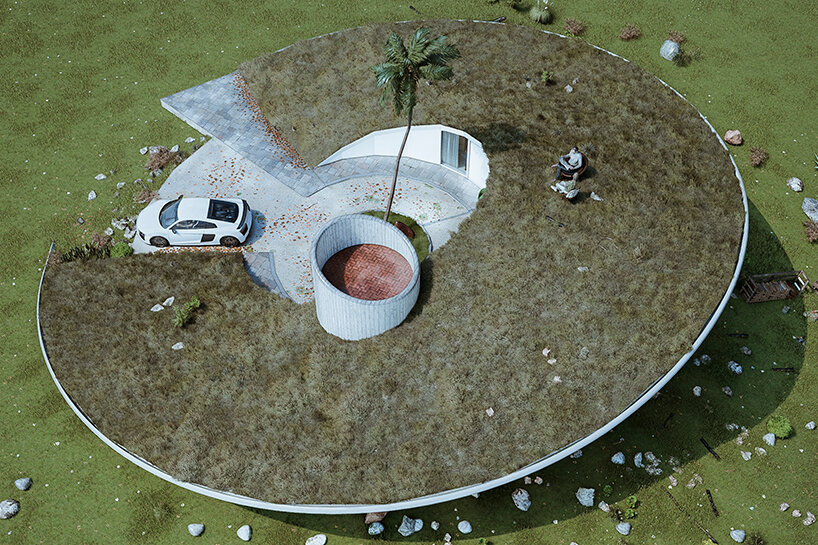 carrying the concept, a tree spontaneously sprouts in a lush green patch in the middle of the stone-finished courtyard, while the glass opens views to the landscape, allowing the natural light to bathe the interior. the open plan features all the basic requirements of a functioning home: a bedroom, a living room, a dining area, a kitchen and a bathroom. as the rooms interconnect, the seamless architecture is interrupted with an exposed concrete cylinder that acts as the service core, reflecting simultaneously the circling vision. the way veliz arquitecto conceptualizes the project is impactful enough to let the mind travel, even digitally, to the whirling oasis.