Wow, I thought I understood the difference between blood types – until I watched this short, sharp video! I've had my blood tested countless times, received blood transfusions, birthed 3 healthy babies – all without fully understanding the basic framework of blood typing:
This is how we should learn things in school!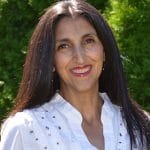 Jini Patel Thompson is an internationally recognized expert on natural healing for digestive diseases. She healed herself from widespread Crohn's Disease and has remained drug and surgery-free for over 20 years. Jini has appeared on numerous podcast, TV, and radio shows throughout the U.S., U.K., Canada, and Australia, giving people hope and vision for how they can heal their Colitis, Crohn's, Diverticulitis and Irritable Bowel Syndrome (IBS), using entirely natural methods. Her books on natural healing for digestive diseases have sold worldwide in over 80 countries.